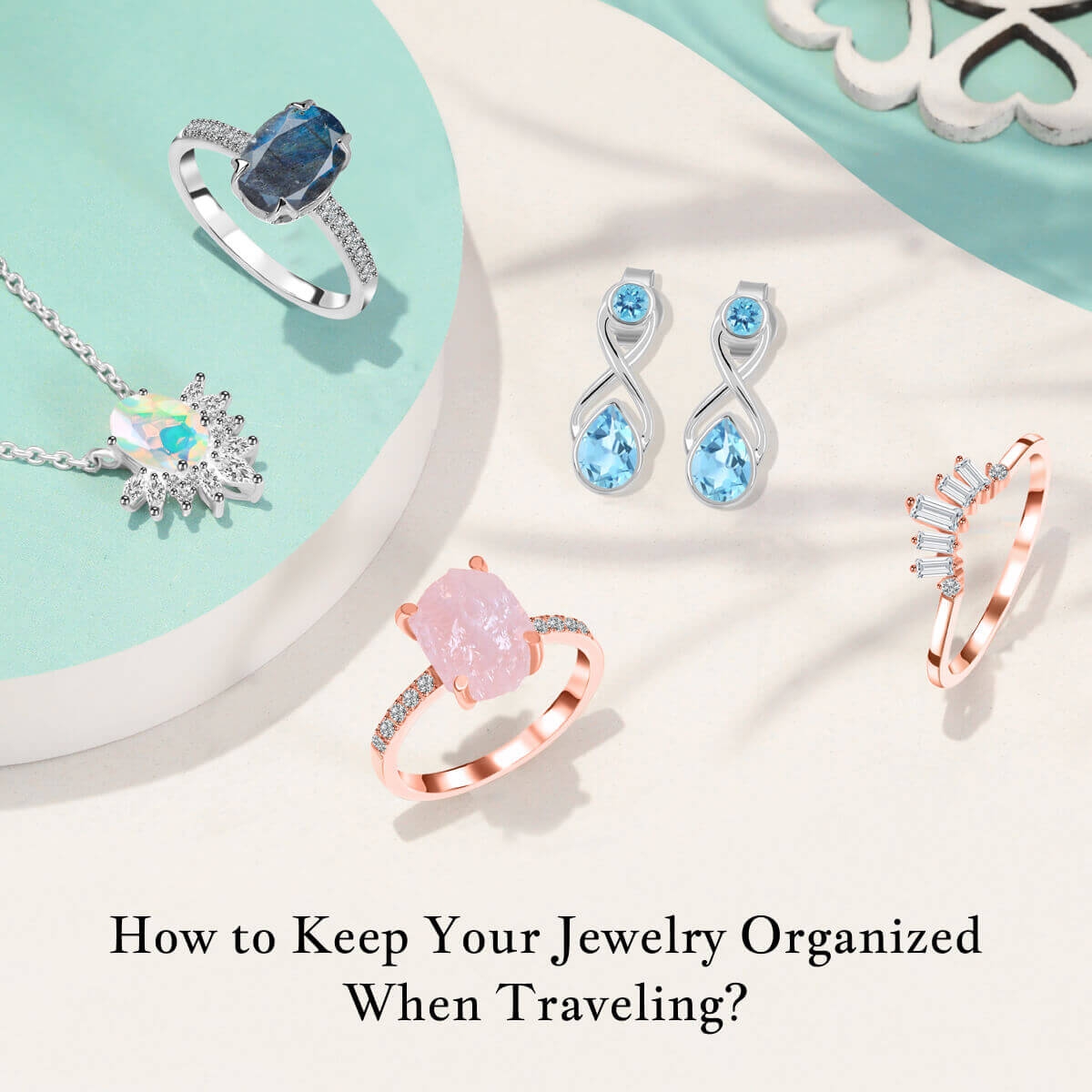 Are you a travel enthusiast who loves to seek new adventures in life continuously? Have you also faced hitches in managing your jewelry while traveling and longed for a solution or tips to make the whole experience way smoother? Don't worry; we have scoured some of the best hacks for you to avoid tangles, scratches, and missing pieces. Let's talk about how to keep your jewelry organized when traveling so that you stay stylish while accessorizing your look without bringing dozen of outfits.
Let's explore offbeat ways to easily manage your necklaces, earrings, rings, and bracelets while riding the rails. The best part is that the tips shared in the article don't require additional spending. Instead, you can easily steal this deal from your day-to-day life.
The following two decisions are crucial when packing your accessories and require most of your attention.
How are you going to carry it?
What all will you carry with you?
What Jewelry Should You Carry While Travelling?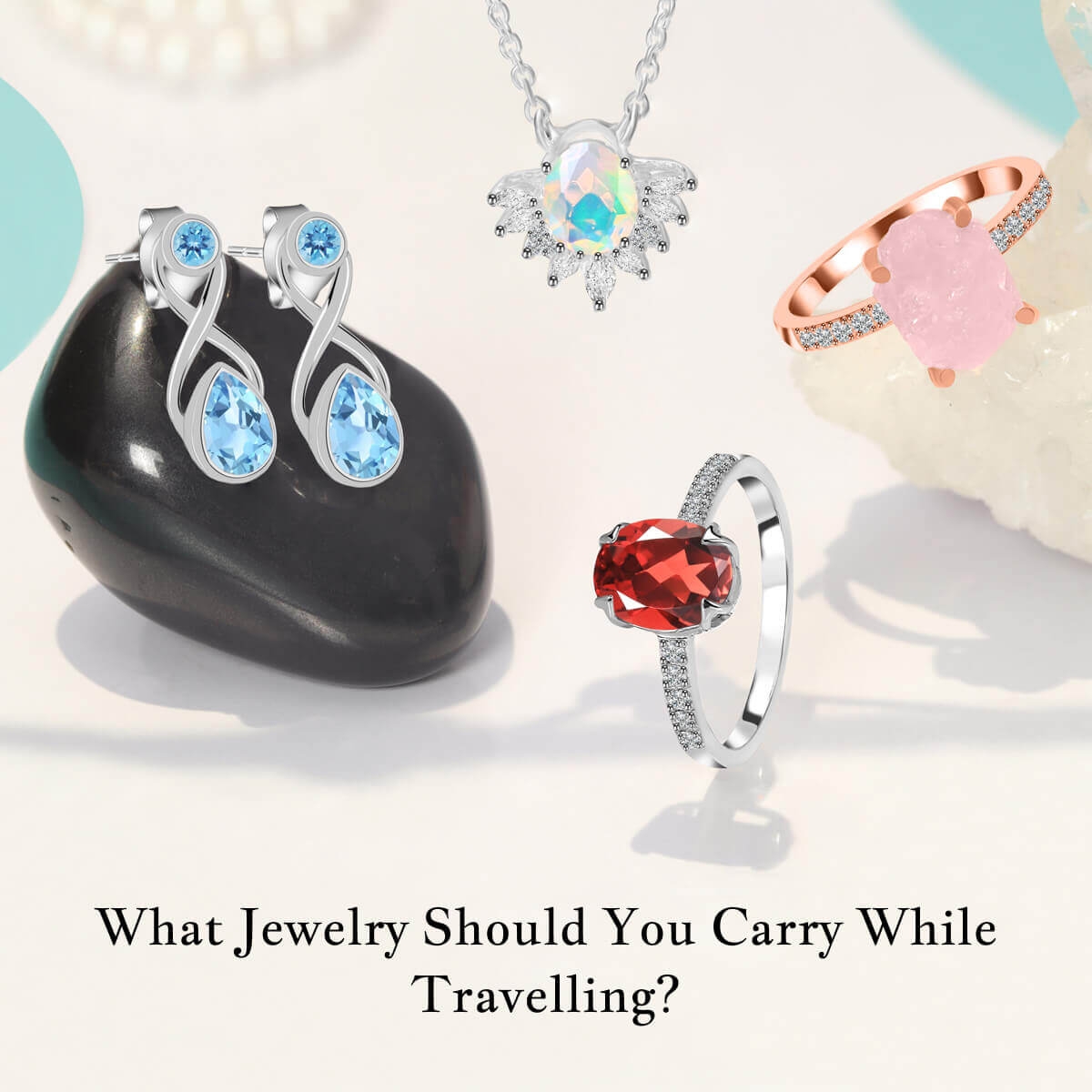 First things first. The most obvious question that pops up in mind is what jewelry you should carry while traveling. When packing, always consider picking your accessories according to the attires you have packed. You can always use our simple "Three S's" trick for this case: Simple, Single, and Selective.
Simple Jewelry for an Easy-peasy Styling
Pick those pieces that are your go-to options and easily blend in with any outfit just like our favourite Opal Jewelry. Such accessories are a great life saver when you are in a hurry and need to keep your attention on other necessary topics. Also, these adornments help you to create and manage your look according to your mood and place. Plan your last-minute look with pieces that are as flexible as you and slay your look each time without worrying a bit.
Single Color or Tone Selection
You might come across a world of possibilities when you are on the move; thus, to avoid any hassle, it's better to choose a singular palette for your jewelry. For example, pack either gold-toned or silver-toned shiny pieces and leave room for some versatility. Generally, these pieces accents easily with most of the attires, so you do not need to carry your whole wardrobe. Furthermore, you can mix and match these pieces to create a new look instantly as per your mood. You can also use Silver Jewelry or pieces like Turquoise jewelry that are finely crafted in pure 925 Sterling Silver to add a Boho vibe to your style.
Selective in What you Carry
As we mentioned, there is no need to carry your whole wardrobe and make things easy while being selective in your packing. Also, we suggest you should be extra picky when taking your expensive jewelry with you. You should pick Travelling Jewelry carefully as snafus happen when moving from one place to another. It's easier to laugh them off when they don't involve losing your expensive jewelry items. You can choose options like Moonstone Jewelry that are easy to pair up with anything and at the same time they doesn't cost you a fortune.
How Should You Carry Your Jewelry When Travelling?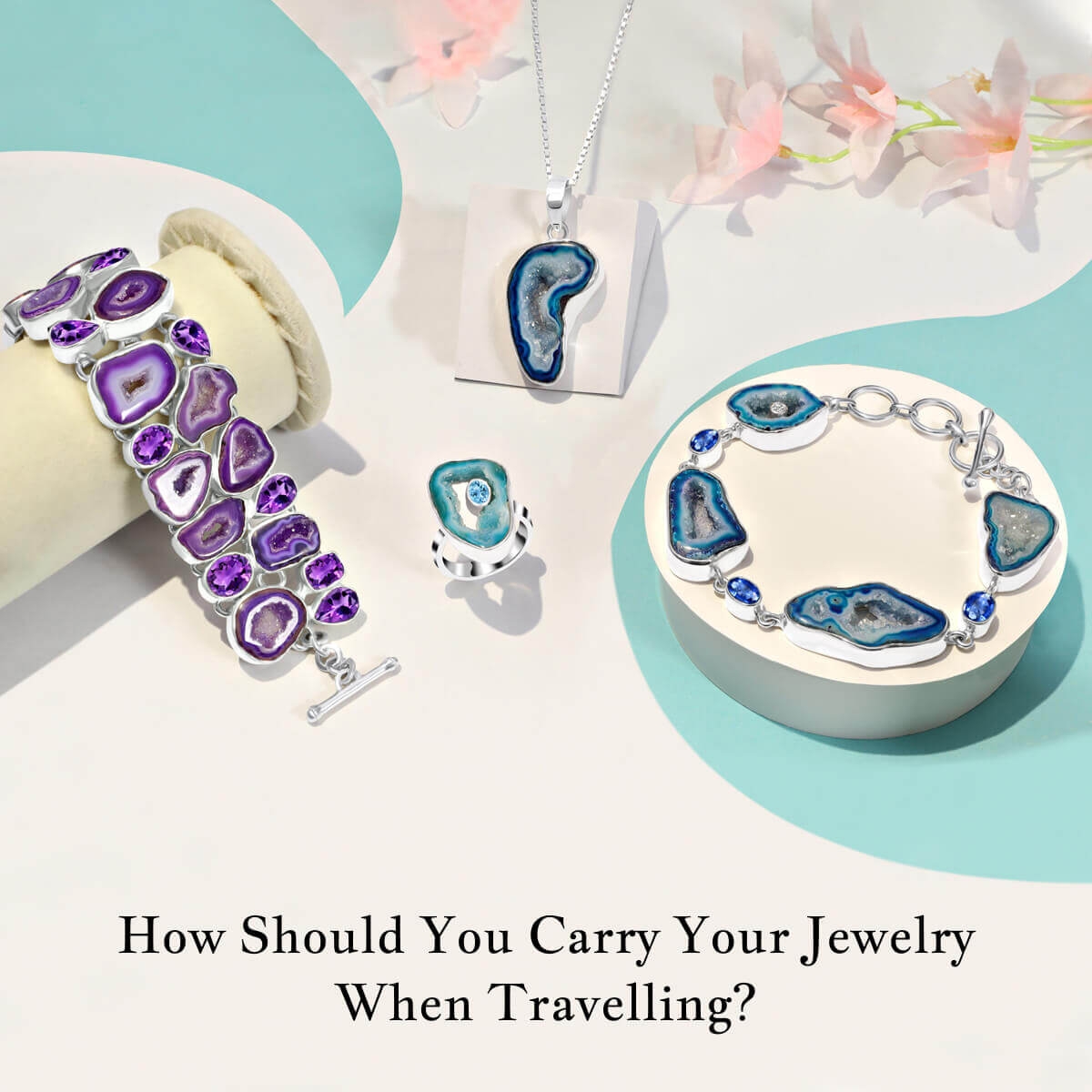 Next comes the second most crucial part in any journey that sometimes hampers the whole mood. The constant question of the right ways to carry your jewelry with you might haunt you. So, for the same reason and to resolve your pain, here are a few tips and tricks on carrying your jewelry when traveling.
Saving on the Mint Boxes
You can save all the Tic Tac containers or any other mint boxes when you are done with them. They can make an excellent container for your small adornments and keeps them safe. Then, add a cotton ball around your jewelry pieces to protect them from any scratches, and you are ready to safeguard your jewelry.
Using Drinking Straws for the Good
Did you know that you can reuse your drinking straws to help prevent your necklaces from getting tangled? Your delicate pieces of chains and Gemstone Necklaces are really fragile and can get knotted with each other. Before they stay like that forever, we have come up with the right way to store them, especially when you are moving. Loop each necklace through a straw to keep them separated from each other and tangle-free. This will also help prevent your metal from external scratches and damage.
So now when you got the idea of How To Pack Your Necklaces Without Tangling ; flaunt your neck with some of the most eye-catching designs everywhere you go.
Ziploc Pouches
Ziploc bags are one of the best ways to store your jewelry safely. If you have plenty of these pouches, try to keep your accessories one at a time in each bag. This will avoid any scratches that might come from the rubbing of hard Gemstone Jewelry with a comparatively softer one. In the case of necklaces, place each one with its end zipped at the top.
Time To Use Your Extra Buttons
Small adornments like earrings and studs get lost really easily. This usually happens more when you are packing for a trip. But what's more frustrating is losing the backings of the earrings. Thus, we came up with the band-aid to put on your wound. It's time to use your extra spare buttons for good. Insert each earring into the buttonhole, and you are ready for a perfect getaway with shiny ears. This is how to keep your earrings safe while traveling. You can keep these buttons in a separate bag or tuck them into the pocket of your suitcase.
O-Rings
You might have used the metal rings or o-clips in crafts and school projects. So let's bring back those and create the actual use of them. These can be the real best friends for your rings, bracelets, and necklaces. So open the O-Ring, slip your favorite Gemstone Rings and bracelets to carry with you on the trip, and pack.
Washcloth and Rubber Bands for your Safety
You can create the most out of your washcloth and rubber bands. Since you will be already packing them, why not utilize the space while keeping your jewelry safe. Simply place your jewelry necklaces apart on a washcloth and roll it length-wise. Afterward, fold the cloth in half and add rubber bands to each end to keep them secure.
Using Erasers
It's time to bring back childhood memories and use our most memorable companion for the good. Yes, we are talking about none other than our beloved erasers. So you don't have to worry about your earrings getting lost in transit. Instead, stick your earrings in the eraser and pin them back to ensure that you don't lose the backings as well. This is a straightforward and go-to pro tip for all your happy traveling memories with your earrings.
Empty Small Cosmetic Containers
The little empty boxes of your cosmetics can actually workout like magic for you. You can safeguard your accessories while utilizing the left empty boxes of lip balms, creams, and other products. They can actually work out pretty well for your traveling hacks and requires no additional costs. Apart from that, these boxes are handy enough to carry around wherever you like.
Pill Boxes
Boxes of weekly pill organizers can be a great storage space for small adornments such as rings, earrings, and other accessories. Use separate compartments, each for a different type of accessory. Or you can simply organize your jewelry according to your day-wise schedule so that you don't have to work up on your fashion look every day. You can easily access these boxes, and they don't involve any much of the amount in them.
Travel Soap Box
You can also keep your pieces of adornments in a travel soap box to keep them contained and protect them from any further loss. Store your favorite pieces of bracelets, earrings, and rings in the soap box, which you can easily pick up from anywhere. The box will protect your jewelry from getting misplaced and store it in one place.
Glass Case
Another common hack you can steal from your day-to-day life for your travel accessories is Glass Case. You can use the empty glass case to store your rings, small neck pieces, and other small items. In addition, these cases can be your best buds in carrying your lovely bracelets with you and has the ideal place to hold them safely during the hip-pity-hops of the journey.
Safety Pins to the Rescue
You can safely loop your earrings, rings, or necklaces easily using your safety pins to keep them together. This will prevent your jewelry from getting lost easily and even from moving here and there.
Trying out Toilet Paper Rolls as DIY Organizer for Jewelry
At first, this idea might seem like a big catastrophe to you, but trust us, it is one of the easiest and most workable ways to hold your accessories easily. Once you are done using the whole roll, you can use the cardboard roll to pin your earrings, place your bracelet around the roll and insert your necklaces through the roll. This is one of the super simple ways to keep your pieces organized while using the bare minimum inputs. Anyone can easily wind up with using the basic necessities at home to work for good.
Socks for Storage
This is one of our favorite hacks, especially when you are missing out on the space available in your luggage. You can easily store your small adornments in socks as you are already going to pack them. So why not save on the space and utilize it as much as possible? This will help you to go light on your travel while staying fashionable at the same time.
Bead Organizer or Craft Store Box
You can also use a translucent bead or craft box with different small compartments as a medium to store your small pieces of adornments. Cover the base of the box with a soft cloth or cotton to ensure that you do not scratch your accessories. You can stack your earrings, rings, and other necklaces in these small compartments separately and enjoy your journey.
P.S. - Don't forget to take out your jewelry before wearing your socks.
Jewelry cases
You can always carry your belongings and jewelry in small pouches or cases specifically made for jewelry. This is one of the easiest and most adopted ways to keep accessories organized when you are on the move. You can easily purchase these jewelry cases from any shop nearby, and they don't even cost much.
Other Important Tips to Keep in Mind
Other tips for your traveling fashion that might help you in the long run and further planning are as follows.
Pack a Statement Piece
For a memorable trip, you can pack something bold or chunky like Larimar Jewelry for your travel journey. This will ward off the significant setbacks from your basic ensemble and adds a new appeal to the simplest outfits. Get all the attention that you deserve with the right kind of jewelry. You can accessorize simple hoop earrings or studs with something unusual and bold that will help you to draw massive attention towards you.
A statement piece helps you catch up on the significant traveling feels while staying cool by keeping a check on your vibe with subtle accessories. So be the cool downtown girl and slay every attire confidently with the most warming traveling vibes.
Safeguard your Accessories with Soft Clothing
Ensure that you safeguard all your lovely pieces with a soft cloth so that it doesn't get affected by the ups and downs of journey. If not packed properly, you might end up scratching your precious stones and jewelry items. The best way to pack your jewelry is right in the center of your travel bag. Place rolled-up clothing around your accessories, which will act as a cushion against any bumps or hard impacts. The clothing will lessen the impact of any baggage banging or dropping and prevent damage to your jewels.
Carry your Valuable Accessories on You
We are sure you don't want to remember your journey as the most hazardous memory of your life by losing your valuables. Thus, we suggest that if you carry your highly-priced jewelry such as Moldavite Jewelry or any other precious item like an engagement ring, etc., it is always better to keep wearing them. We know that you love your precious jewels so much and definitely do not want them to get lost. Thus, for the same reason, we hope that it never happens, but just in case if your luggage goes missing, you'll have peace of mind thinking some of your precious possessions are with you. You can keep these adornments in your handbag or something else that is handy to keep it close to you.
Conclusion
We have discussed some of the best and easiest ways to take advantage of to keep your jewelry organized when traveling. You can quickly adopt these simple tricks using your daily routine items. Use these to create a real-life saving hack for yourself and make your next trip the most lovable. If you are looking for something extraordinary to occupy for your collection, you can explore the exquisite collection of Gemstone Jewelry at Rananjay Exports.
By offering a wide variety of jewelry designs and two hundred-plus stone varieties to choose from, you can easily be as picky as you want. Apart from this, each piece crafted at Rananjay Exports is finely curated with pure 925 sterling silver to add life to your jewels. From the decent and delicate designs that provide you a simple yet elegant look to big, bold, chunky pieces that speak for your personality out loud, there is something for everyone according to their different tastes and preferences.
Create and decide the appeal of your jewelry on your own by optimizing the metal color. Rananjay Exports offers you three metal varieties: 925 Sterling silver, Rose-gold vermeil, and gold vermeil. Each metal color brings a different appeal, from subtle to classy to vintage. Furthermore, you can easily select and change this appeal according to the stone color and skin shade.
Get your hands on your favorite accessory to include in your travel itinerary and bring on the lively vibes of a memorable trip.