June, named after the Roman goddess Juno, is the sixth month in the calendar; June kids are outgoing, charming, and forgiving, and they have an optimistic approach towards life. But do you know that June kids are lucky too? They have three birthstones, and one is the magical moonstone.
Yes, you read it right moonstone is the birthstone for June . Well, to help you with your curiosity, we are writing this article for you to know about this mystical gemstone and how you can style your moonstone birthstone jewelry in the most chic way.
Moonstone: A Story of The Moon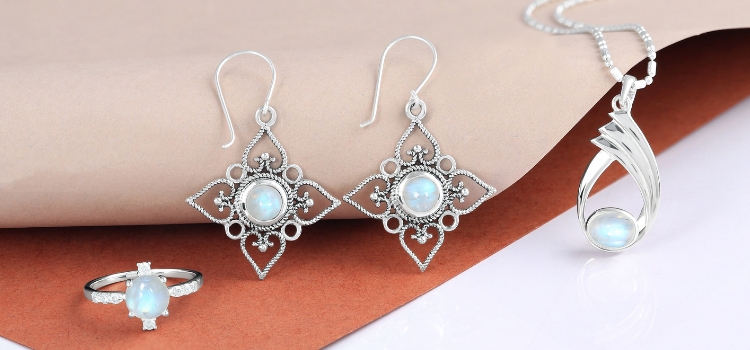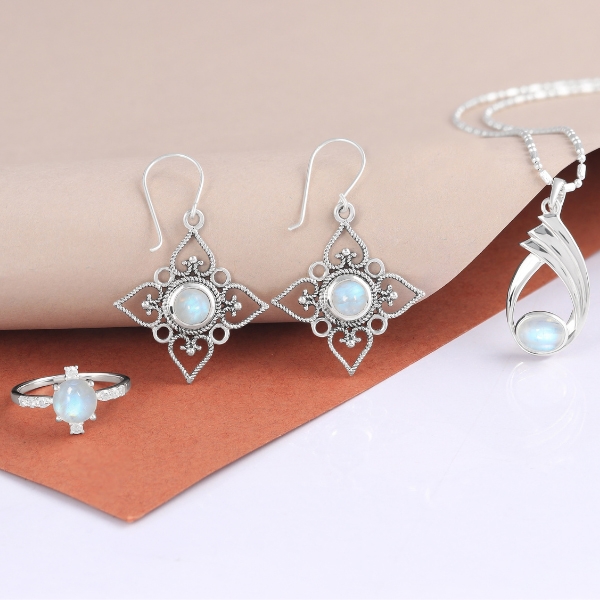 Moon, the alloy silver orb from the night sky throwing the glinting light over to the clouds turning the peaceful night into a magical show, the look of the moon and the colors of the sky reminded me of a stone as enchanting as the moon itself.
The moonstone is the gemstone is as old as the moon, and it carries the mystical gift beneath its pearly surface. It belongs to the mineral family as feldspars, and the iridescence reminds of the moon. Not only is it the gemstone of wonders, but moonstone is also a healing stone. It harmonizes the body and calms and soothes the mind. The wearer of the moonstone jewelry will feel more connected to their inner self, paving a path to their higher purpose. This gemstone provides a way to enlightenment and blesses the person with the magical powers of the moon.
What makes the moonstone apart from the other gemstone is its sheen. It has a clear, milky white appearance. When this gemstone moves, it shows the mystical play of colors in the light called adularescence.
Moonstone can be seen in the subtle shades of white, grey, blue, and pink, making this gemstone more bewitching. That is why these beautiful gemstones make the most enticing moonstone jewelry.
A Roman natural historian Pliny documented Moonstone changing looks and related it with the waning and waxing of the moon. Thus, the gem owned its name ' Moon Stone.' 
The earlier Romans also believed that the June birthstone Moonstone illustrated the image of the Moon Goddess Diana. They also utilized moonstones in the form of ornaments, and they gained more importance in the medieval period. 
June birthstone boosts concentration while doing meditation. As old as itself, the meaning of the gem is intact within its energy. The Moonstone's power nurtures, evoke passion, and awakes sacred feminine energy.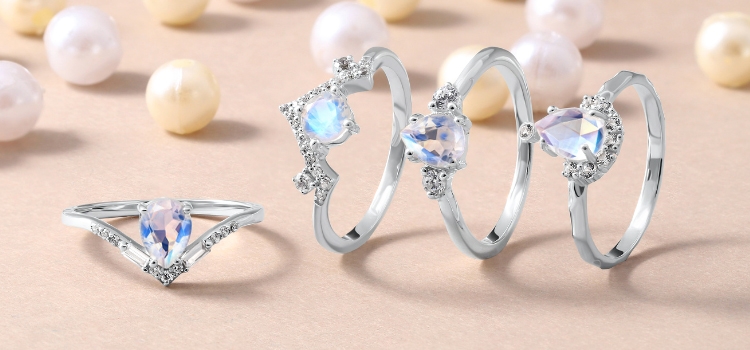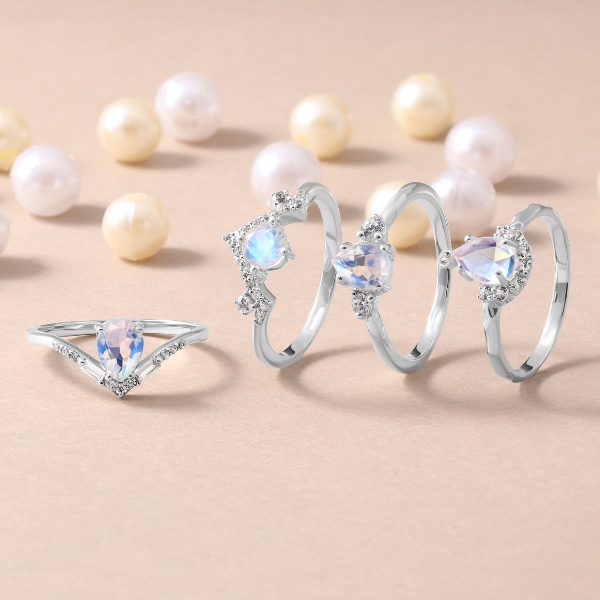 5 ways to make this moonstone glimmer
Wear it small
It's the little things that matter the most; well, it is true about moonstone. If you are not the big and bold type of jewelry person, you can go for a relatively more minor-looking gem. Small and delicate gemstone jewelry can create a much-defined look and can also accentuate your style.
If you want to make a statement, then you can get small moonstone earrings. They not only give you a more refined look but also puts detailing to your facial features.
There is also a great range of small moonstone rings present in the market. One can wear these rings anywhere, whether you are going to a party or attending an important business meeting. These simple petite beauties will add a little glimmer to your attire.
Go for the raw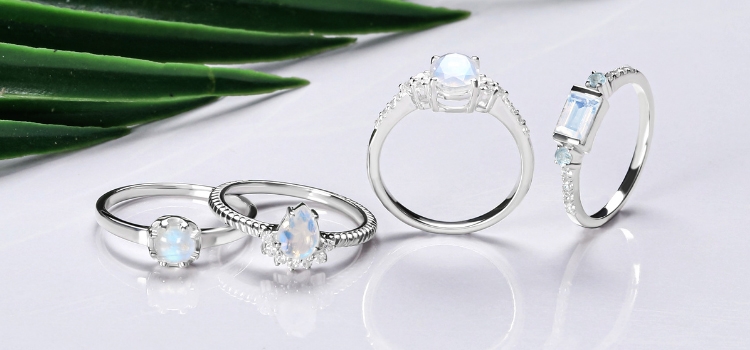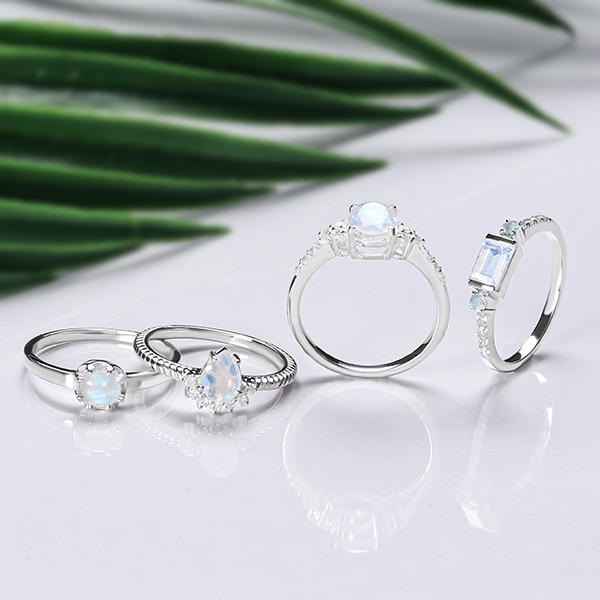 Earlier, people used to wear only big cabochons, but in recent times, ' people worldwide are showing interest in raw moonstone jewelry. If you like something unique, then you can go for the rough-hewn cut. This rough cut gemstone gives the natural texture and distinctive look to the moonstone.
Wearing moonstone rings for your prom or date night can set the stage for you, and not only that, it works as your talisman, and it can save you from all the evil eyes too.
The faceted beauty
If you want to sparkle and want to make your presence felt, you can go for the faceted stones. These gemstones give you the finished look, and they have added shine to the rock; wearing a piece of faceted moonstone jewelry can work wonders for you.
These faceted moonstones stand out separately and can team up with different types of gemstones like amethyst, sapphires, and even diamonds. You can try teaming up your moonstone pendant and the other gems sticking all together, making an excellent combination.
A unique characteristic of moonstone jewelry is that they move with you. The adulraence of these moonstones will attract some eyes.
Minimalism at best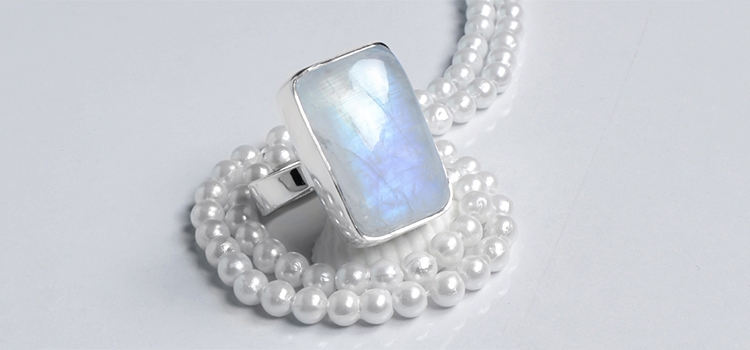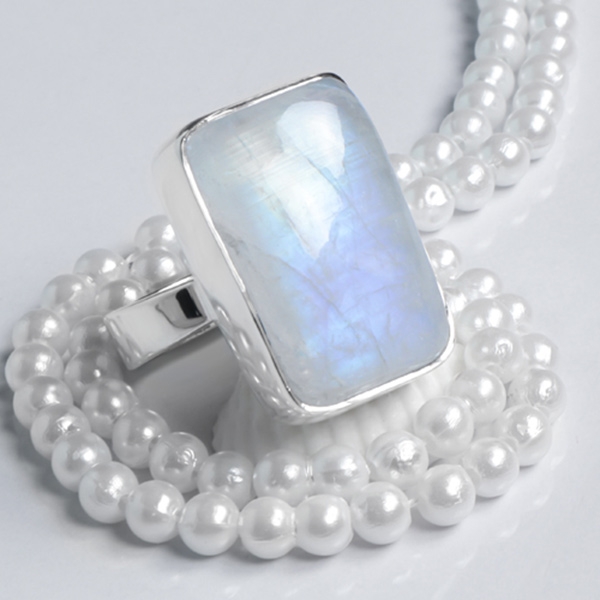 In today's world, minimalism is everywhere, whether it comes to fashion or interior and jewelry is no exception. If you are a woman who likes the simplest things, you can go for small moonstone jewelry.
For an office-going woman wearing big, bold jewelry can attract a lot of attention. So you can wear moonstone pendants or small moonstone earrings; they are not only elegant but can also add a chic factor to your formal silhouettes giving you a complete look.
The color-coordinated style
Moonstone works wonders for the wearer, they do come in one milky white color, but the adularescence of these gemstones makes them suitable to team up with any outfit you want to carry.
Moonstone comes in all shapes and sizes, and you can wear them however you like. But wearing a moonstone bracelet can make your look more engaging.
Depending on whatever look you are going for, moonstone jewelry will only add charm and magic to your attire.
You can pair your moonstone jewelry with,
Your all minimalist and solid look for your office.
Your party looks like your stunning red and black dress.
Your casual day looks, in those funky colors, print and patterns.
You can play with any colors you like with these alluring gemstones the way you want.
So call out your inner goddess and team your moonstone jewelry with any outfits that fit right according to your taste. Moonstone will further add shine and glitter but will also add a whimsical touch to your wardrobe.
If you are looking for genuine moonstone jewelry then, We at Rananjay Exports provide you with authentic and wholesale moonstone jewelry at affordable rates. As the gemstone jewelry wholesalers and manufacturer, we are serving our clients since 2013 and providing the best gemstones from around the globe to gemstone lovers worldwide.
Astrological Perks of Moonstone
The radiant and elegant Moonstone is a peace enhancer and emotional balancer. It signifies a new beginning and development. Moonstone is the best stone for lovers as it unites them till eternity. 
It's an ideal gemstone for travelers as it is lucky for them. The June birthstone reduces the aggressive side of the wearer since Moon governs this enticing gem; its outstanding for meditation, calmness, and peace. The Moonstone also aids in normalizing the sleep cycle.
People having the zodiac sign of cancer must wear this gorgeous gemstone. Moonstone is a master healer gem for females as it helps to overcome their many health issues.
---
Relevant Blogs
---