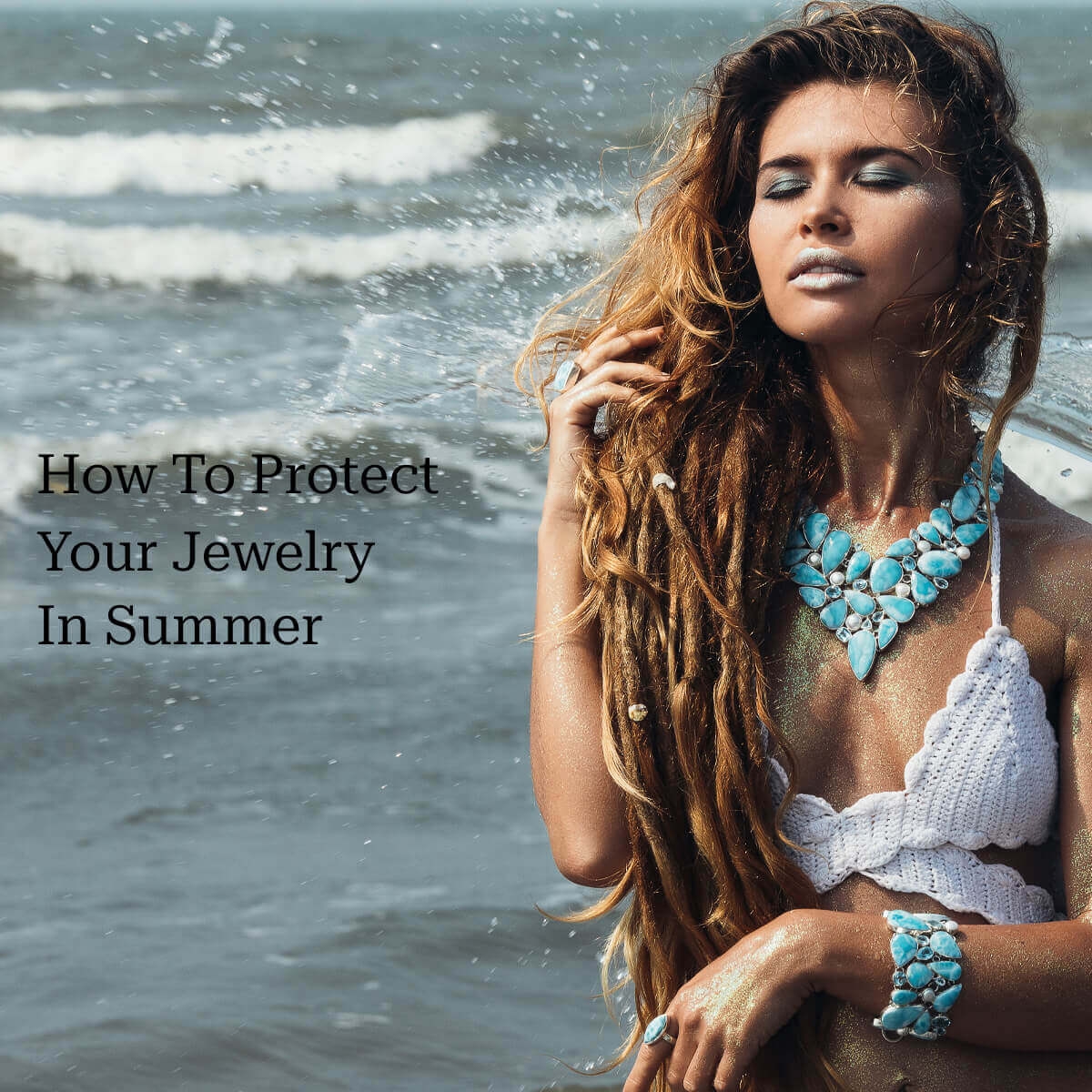 Summer is all about enjoying beaches, traveling to hill stations, outings with friends, and many more activities that keep your mind and body cool. Therefore summer is the best season for accessorizing your clothing, ornamental accessory, and other essential things that give a flabbergasting look in warm weather.
Jewelry is one of the most vital segments of every woman's wardrobe that enhances her overall personality in every season. Further, it requires special attention during hot weather because of the stone's vulnerability and the metal's condition. So, dedicated jewelers from Rananjay Exports have compiled a list of points to keep in mind while using your Gemstone Jewelry during summertime. Let's take a look.
First, Know Your Gemstones
Keeping basic information about types of gemstones is a must to sustain your jewelry for longer. Many crystals are brittle and sensitive on their Mohs scale of hardness; as a result, they can easily get damaged or discolored if they are left in the sunlight for too long or come in contact with harmful elements. Take a few minutes to explore your crystal at Rananjay Exports if you do not have enough knowledge about its properties. You will find several popular gemstones here, including their list of properties and sensitiveness. Some of them have been described below; let's take a look.
Moonstone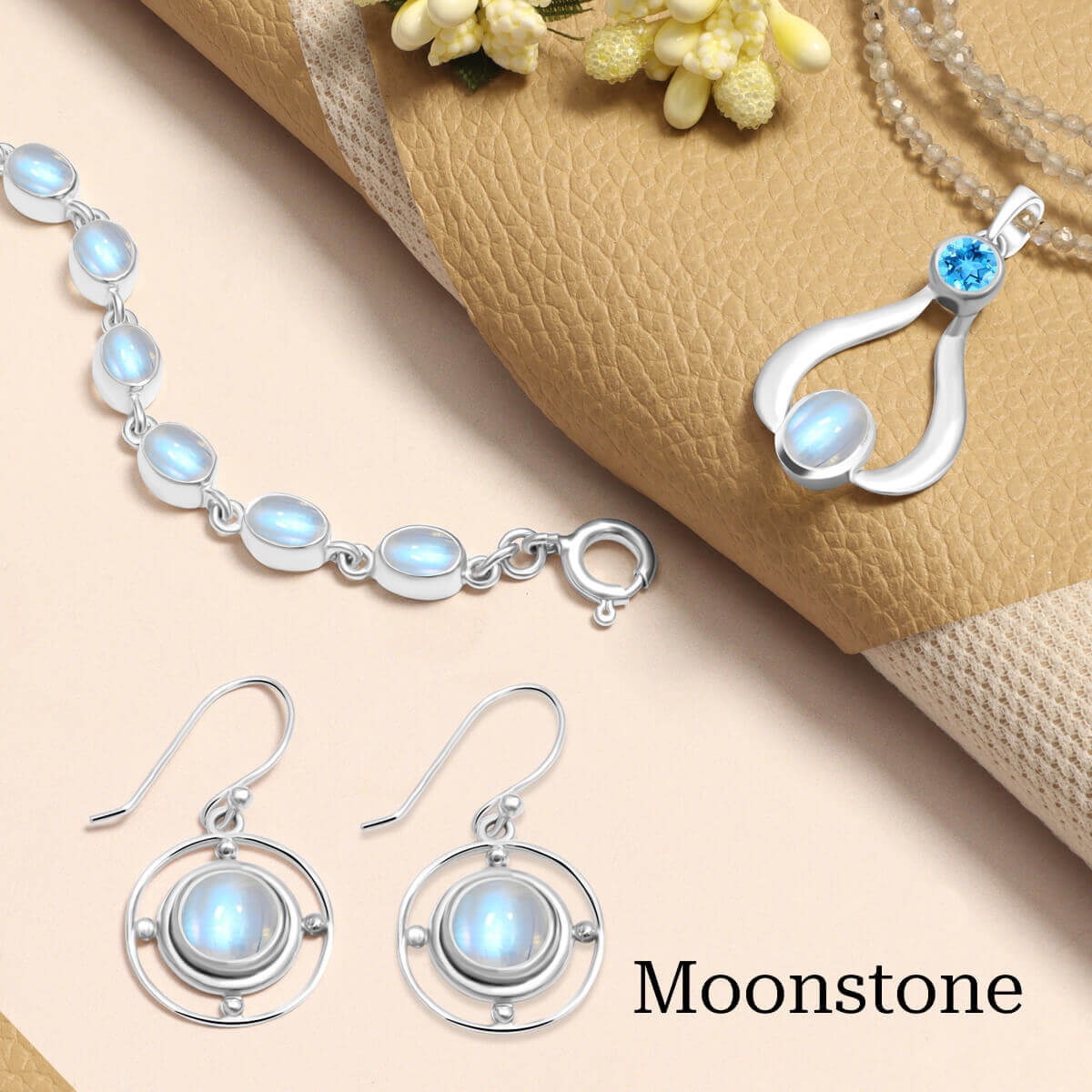 Moonstone - It's semi-transparent to opaque and falls between 6 to 6.5 on the Mohs scale of hardness. Excessive heat or chlorine water can cause damage to the Moonstone gemstone.
Opal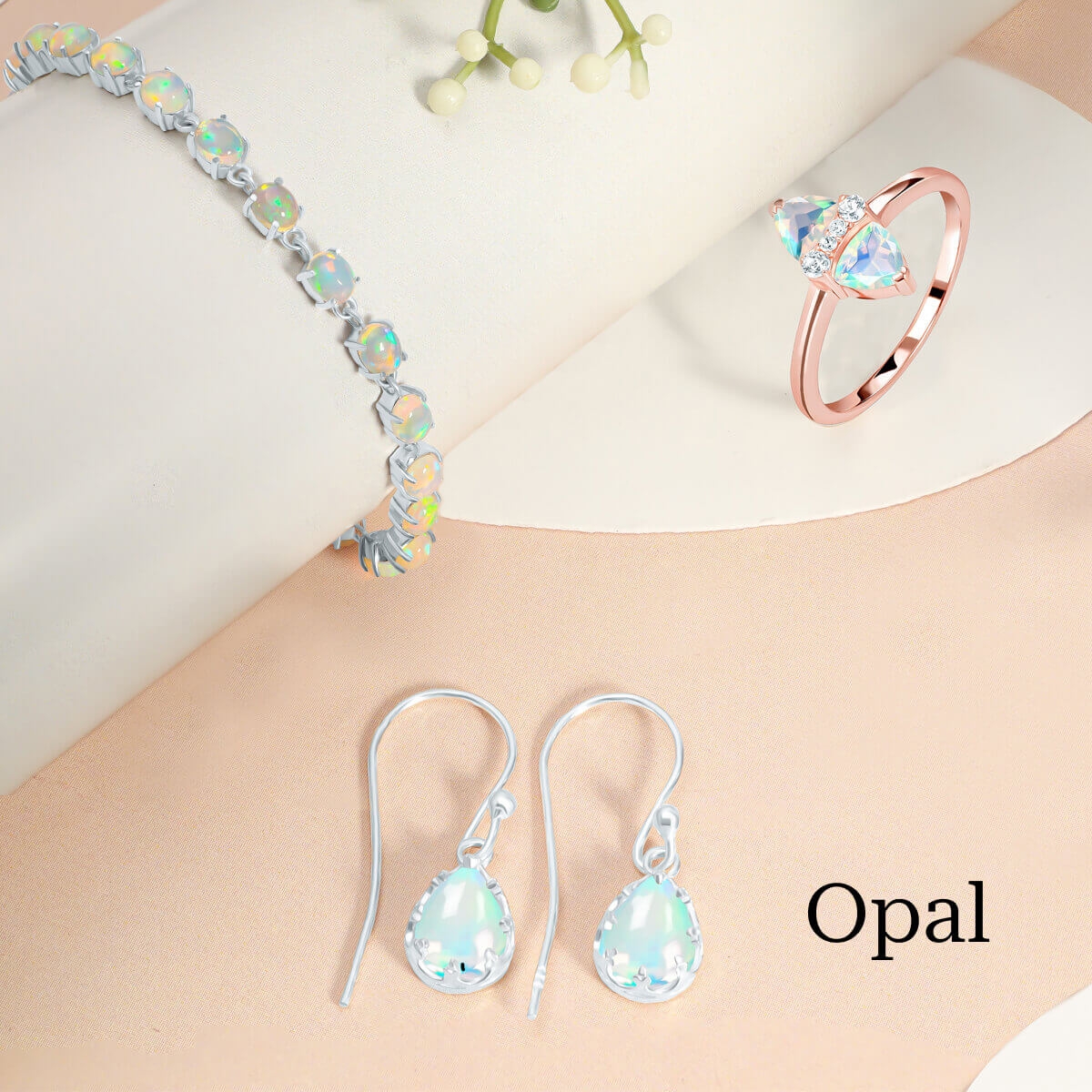 Opal - Having 6%-10% water content, the Opal gemstone can be dry out or cracked if they are subjected to extended to dry storage.
Larimar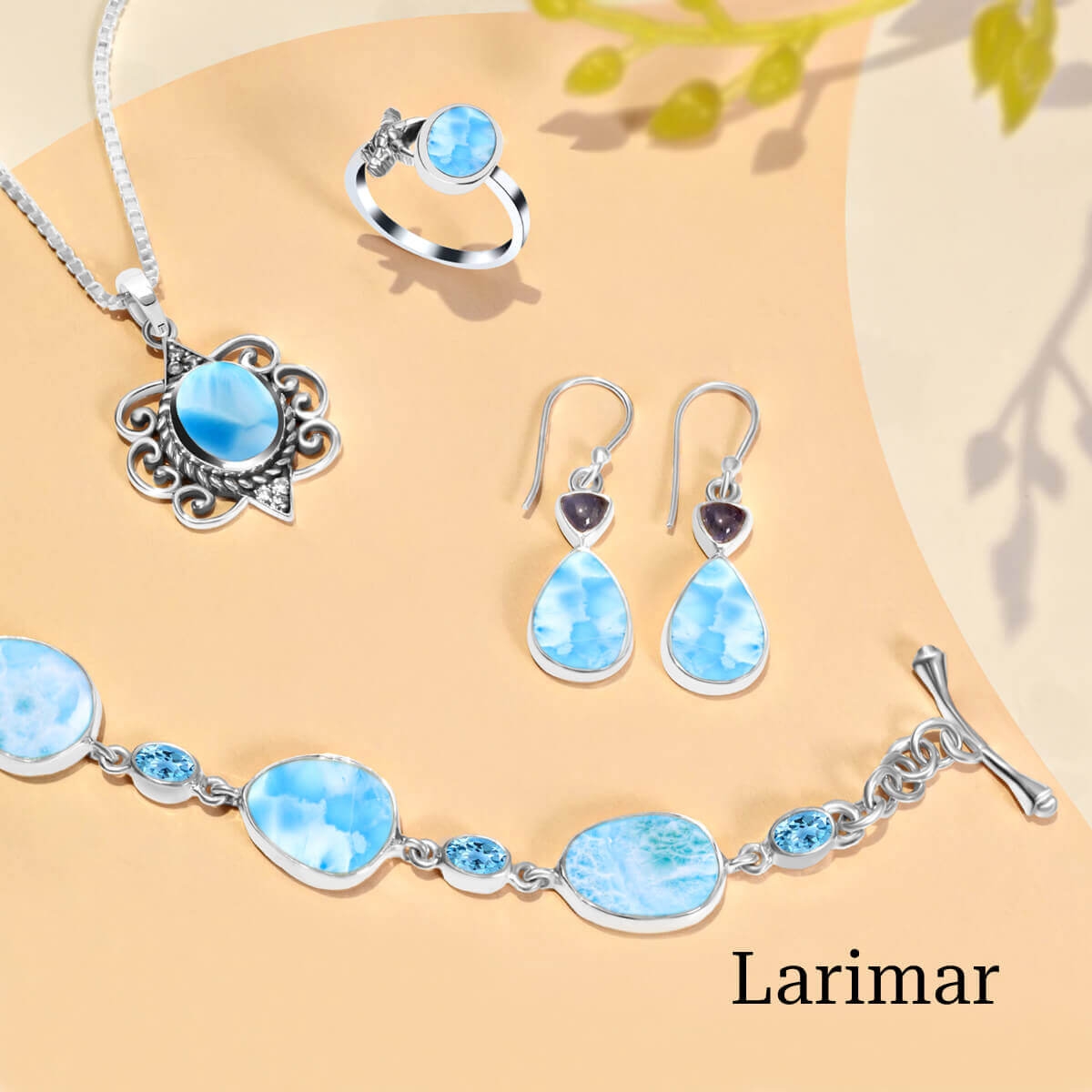 Larimar - Containing oceanic elements, they have porous nature, so they can get moisturized if stored in humidified places.
Turquoise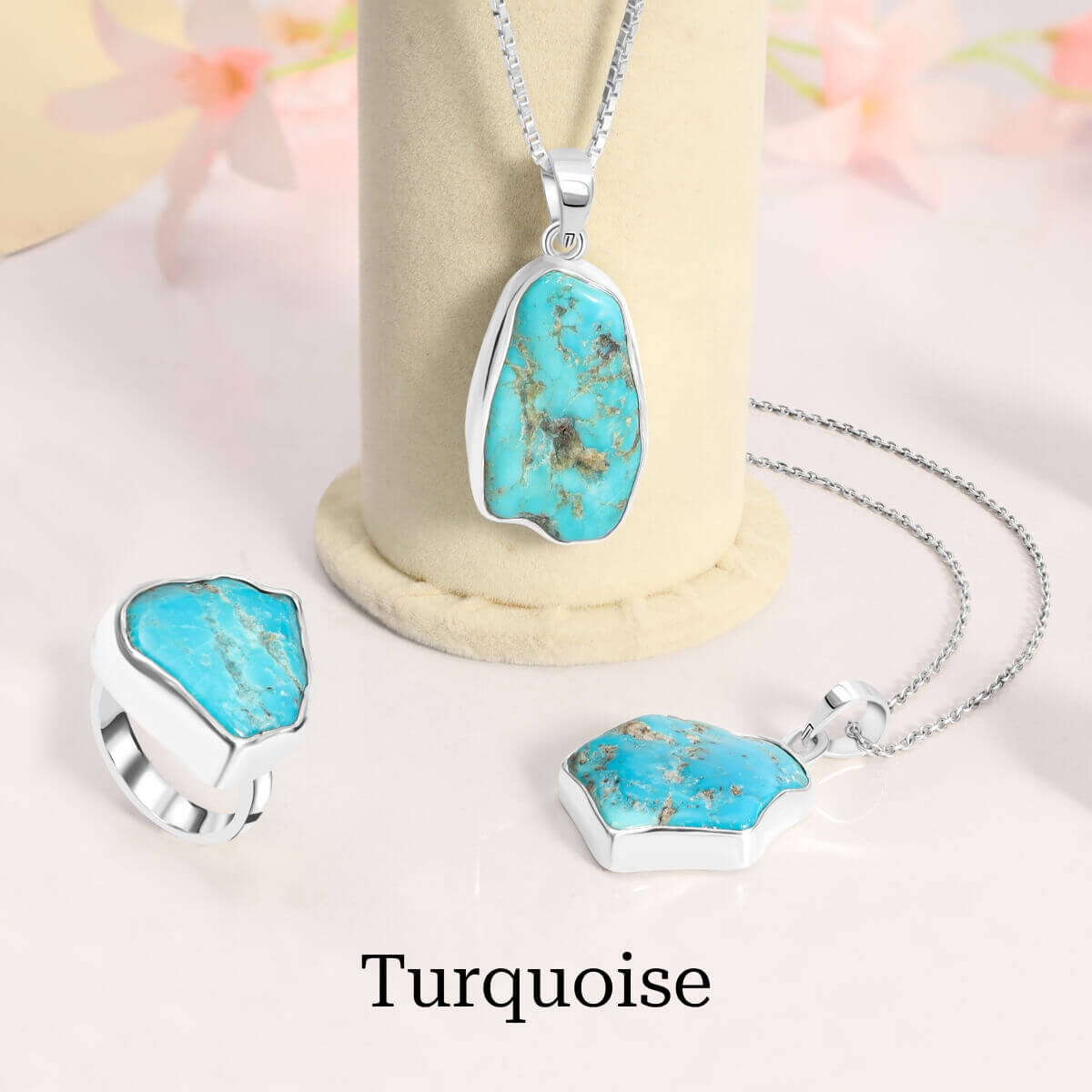 Turquoise - Light sensitive, extended exposure to sunlight can fade the color.
Moldavite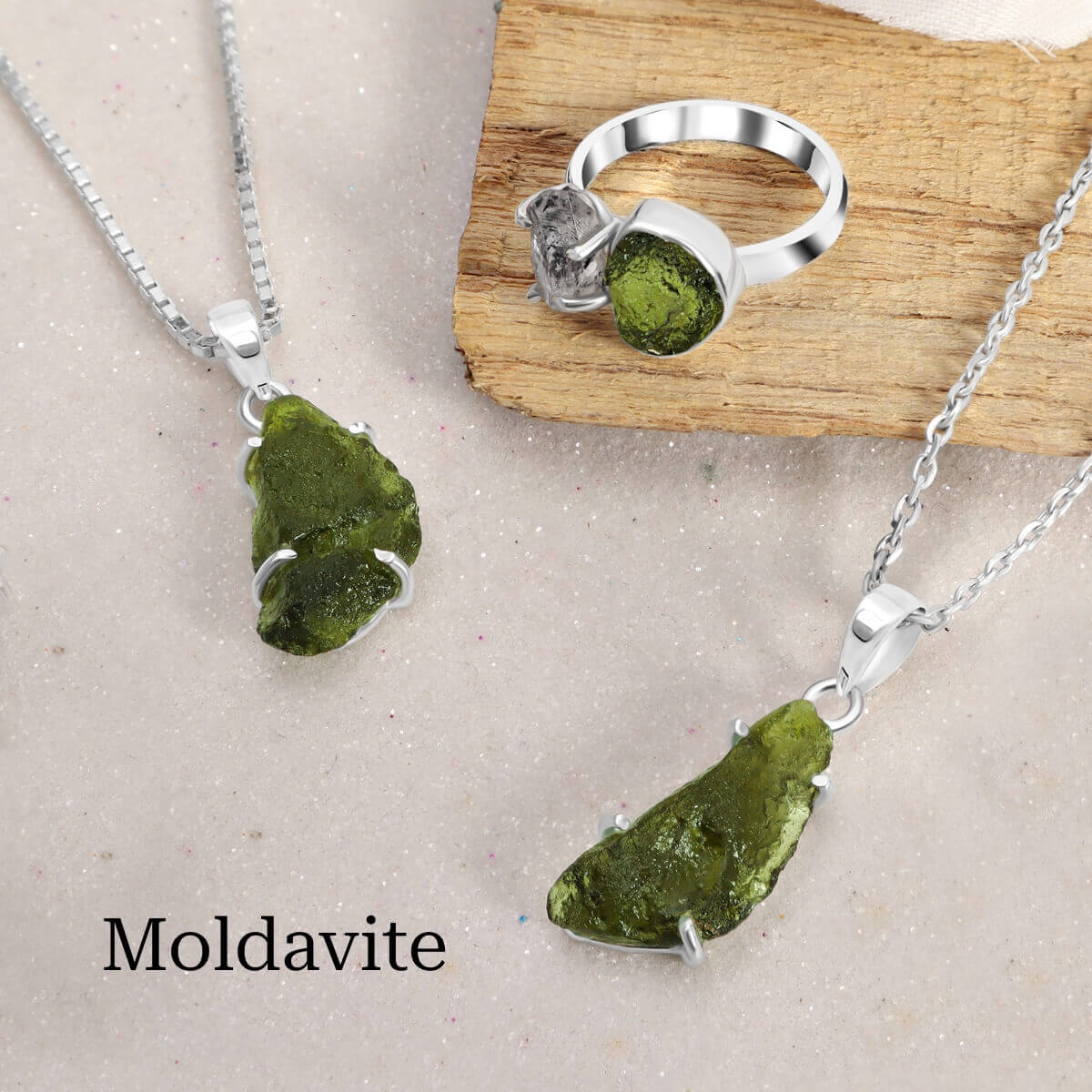 Moldavite - A hardening surface can cause scratching or cracking of the Moldavite gemstone if it is put with another crystal.
Amethyst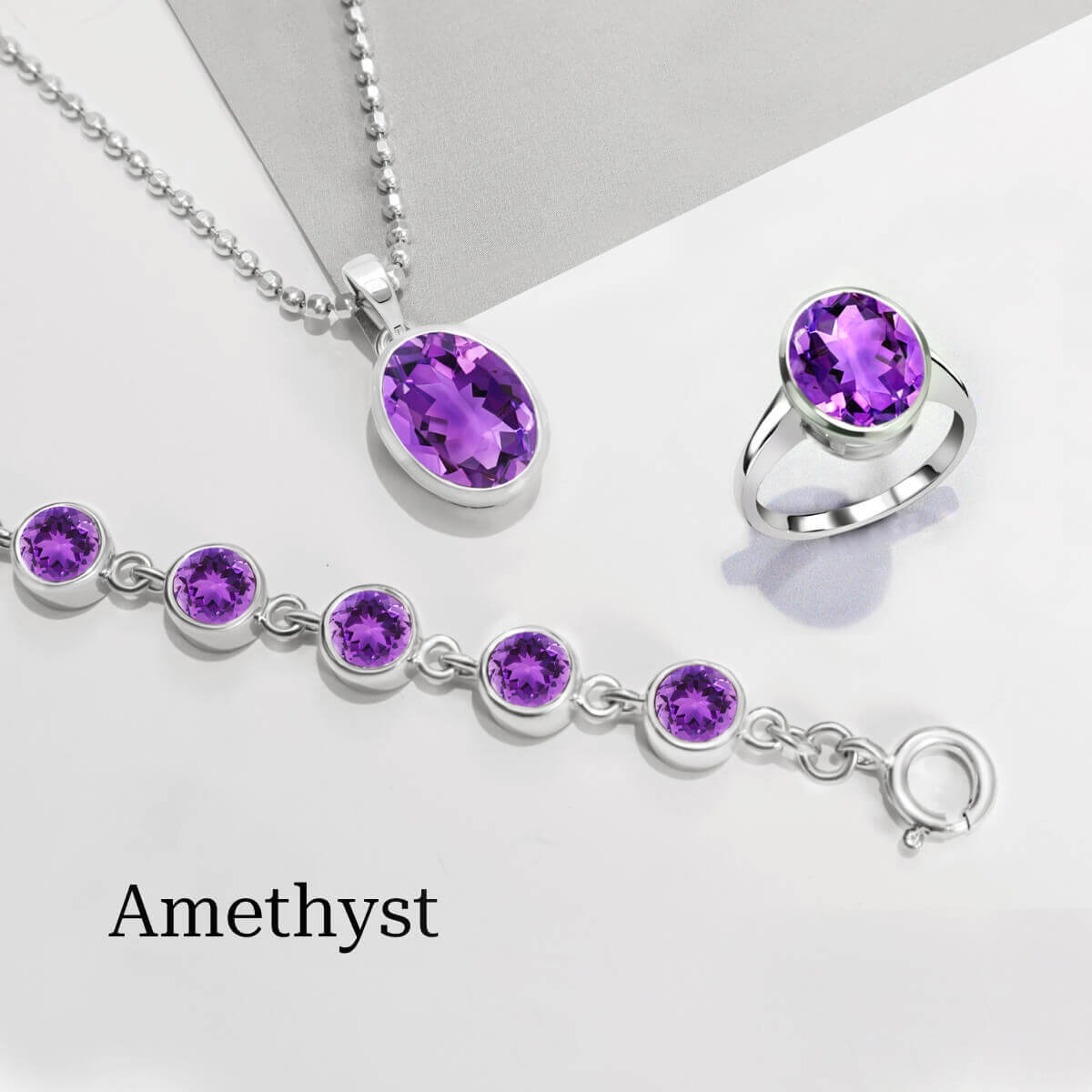 Amethyst - It is slightly harder than other gemstones, and its color can fade with prolonged exposure to intense light.
Tanzanite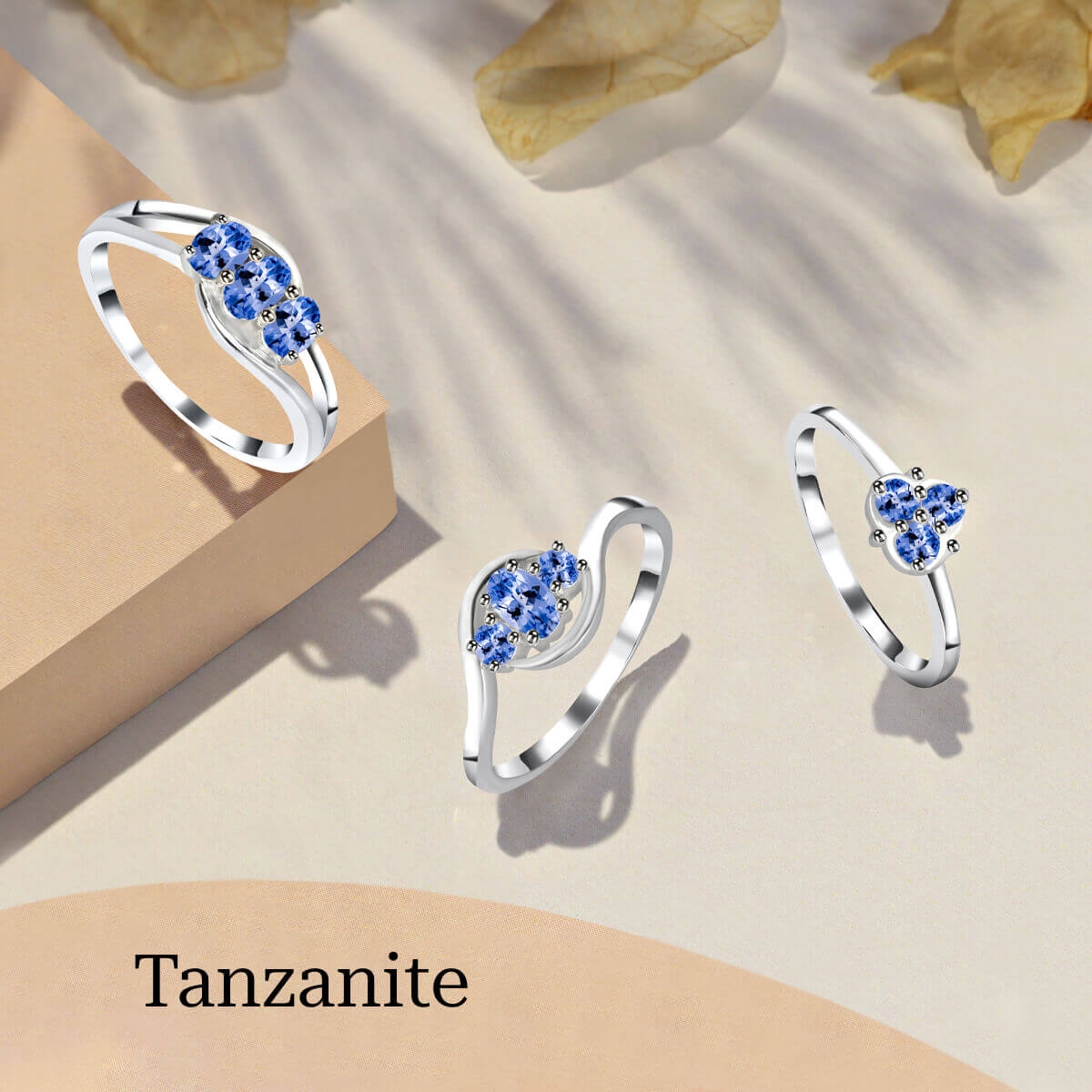 Tanzanite - It is a blue color softer crystal, and heat treatments reduce its shining and natural powers.
Libyan Desert Glass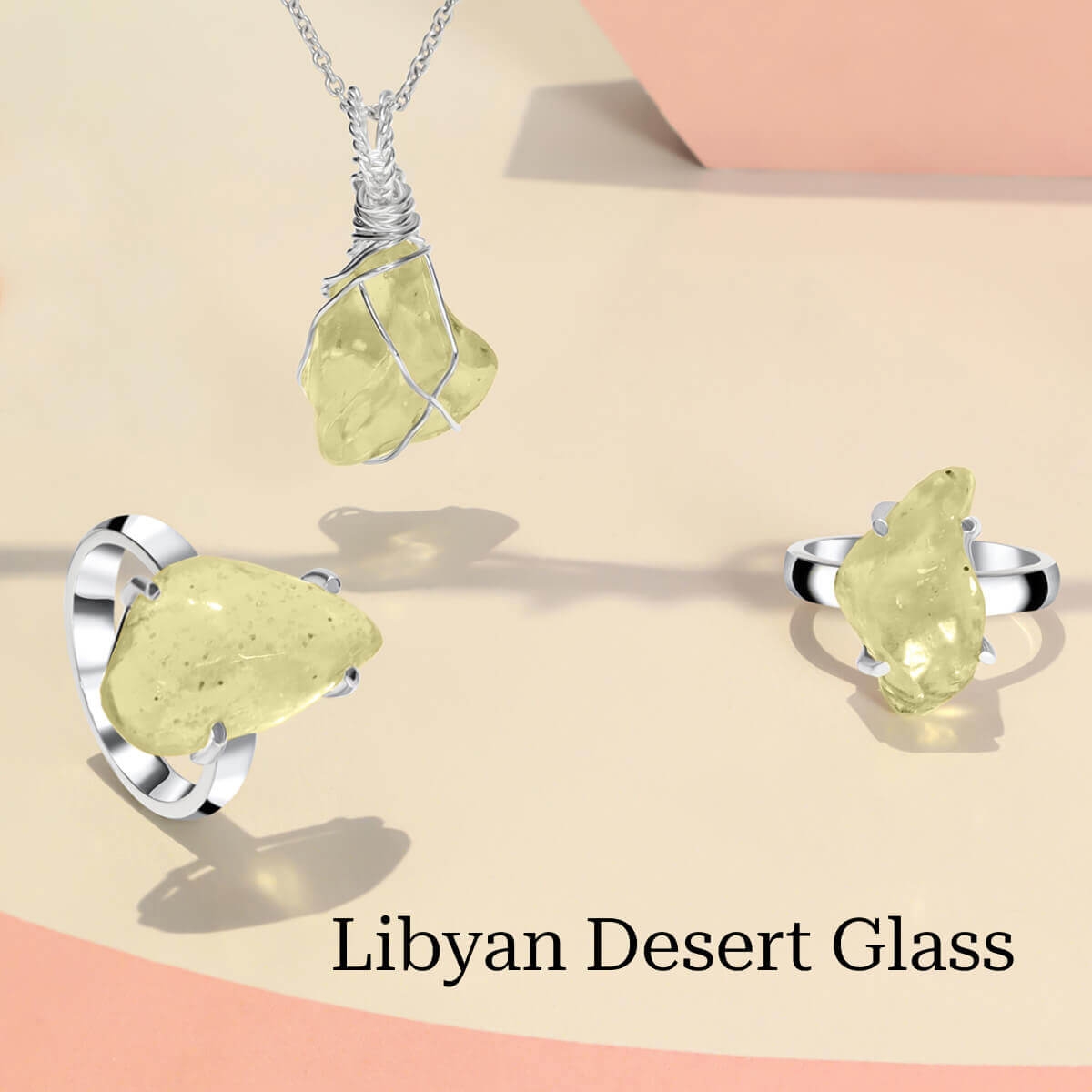 Libyan Desert Glass - It is gold yellow tektite that is deposited in rock form across the Sahara deserts in the Libyan region. A glassy crystal can easily crack or be damaged by touching a hard surface.
Aquamarine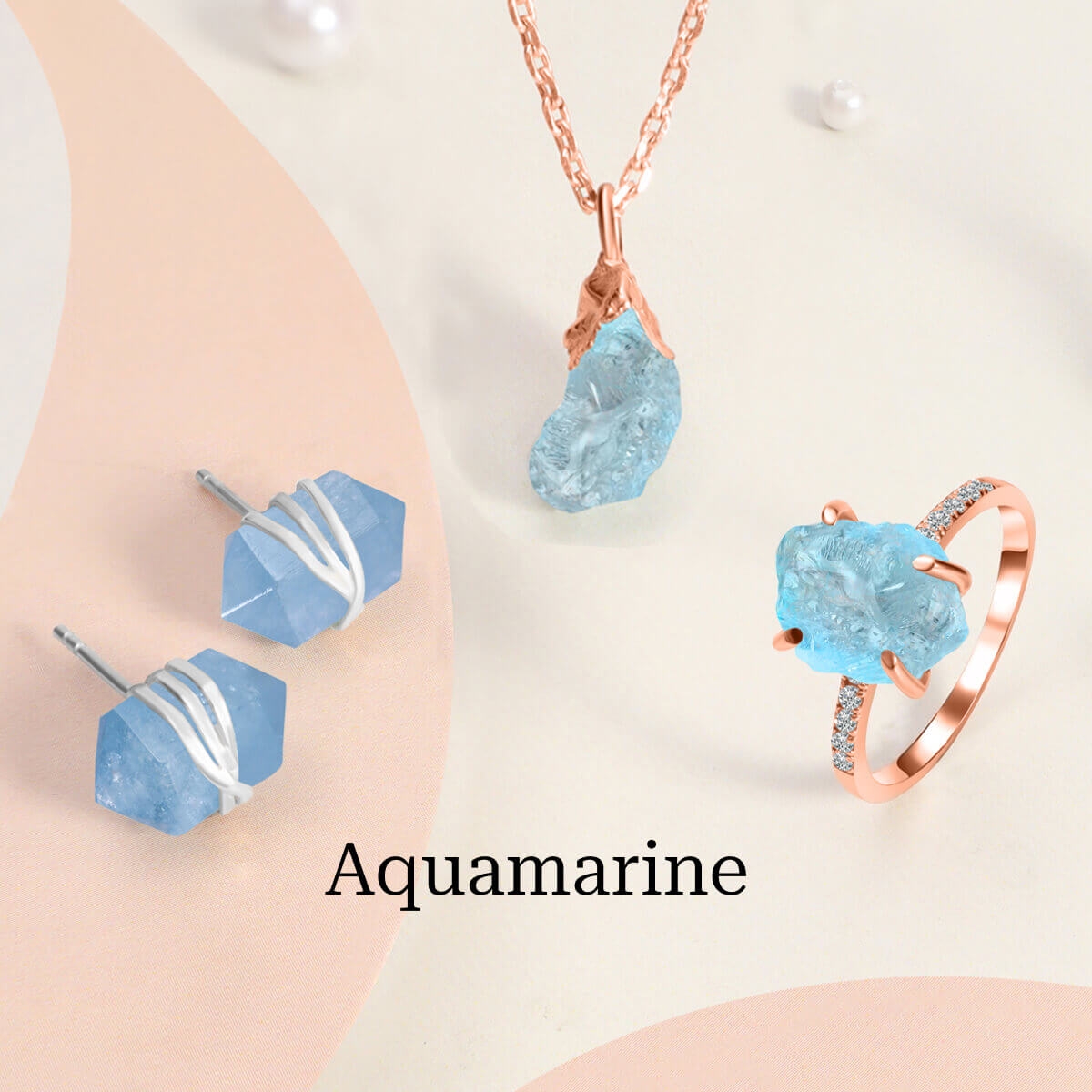 Aquamarine - It rates between 7.5 to 8; the aquamarine crystal is a harder crystal than other gemstones. So putting it with other stones can cause scratching.
Keep Jewelry Away From Sunlight and Heat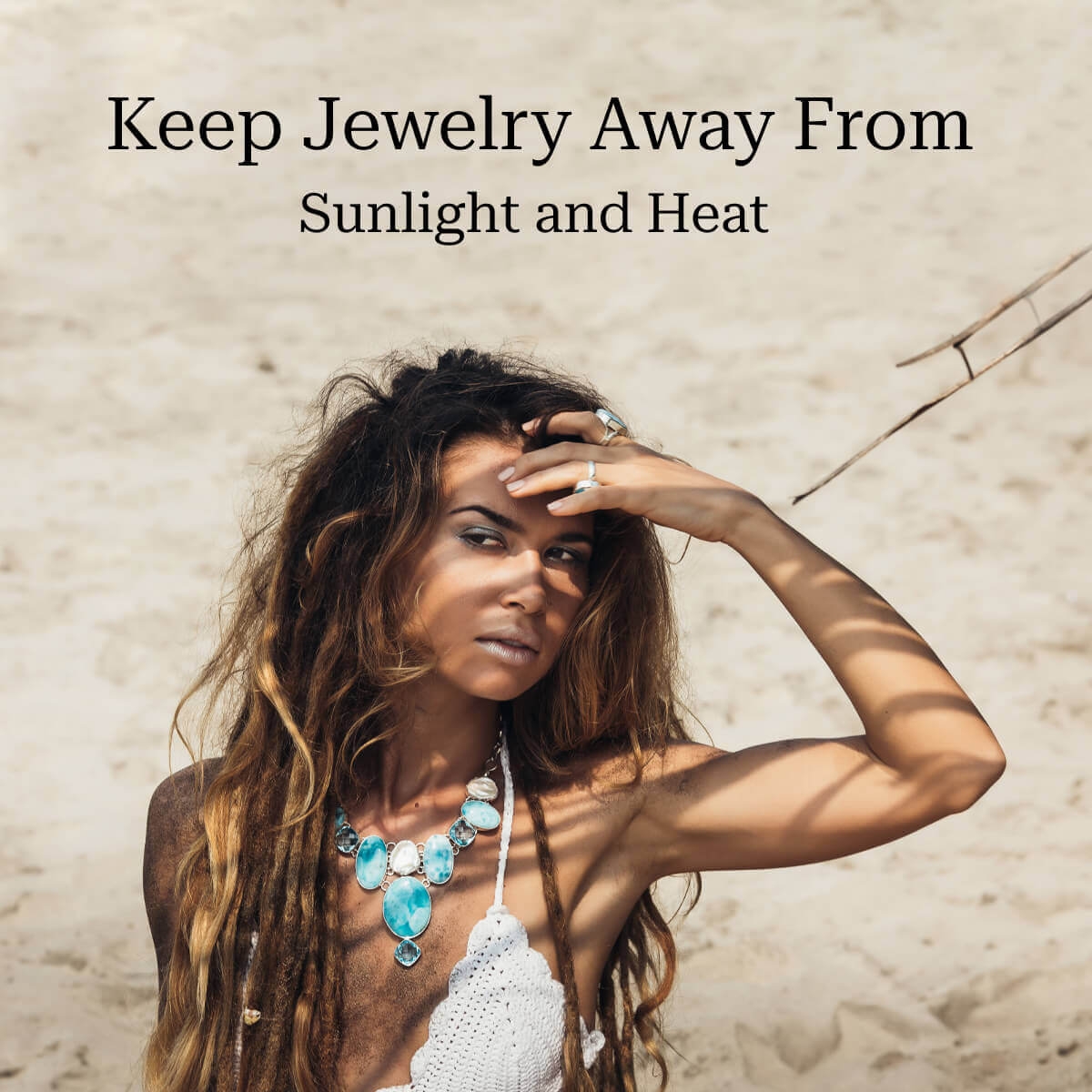 When storing or placing your jewelry, you should always choose a place where direct sunlight does not affect your stuff. For example, opals seek special care because they contain water elements themselves. High heat or sunlight can cause hazing or color change in your Opal jewelry. Therefore whenever you wear the Opal accessory like Opal ring, earrings, or pendants during summer, put your crystal under the clothes or keep them away from direct sunlight. Moreover, heat and sunlight can also ruin your metal's sparkling attributes, as sterling silver can easily get tarnished in heat or sunlight.
Take Jewelry Off While Swimming or Bathing in Pools or Beaches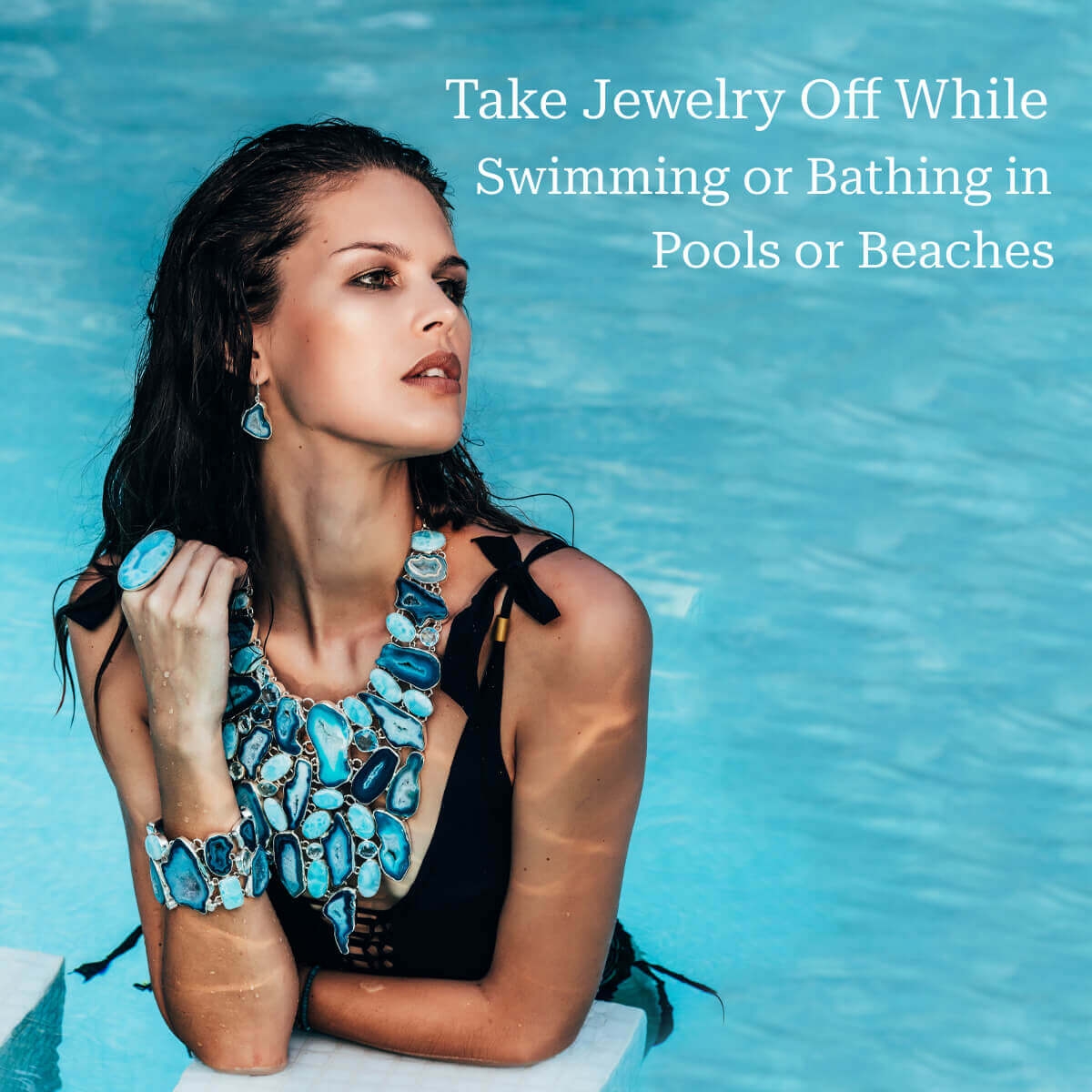 Summer is all about swimming on beaches, bathing under natural waterfalls, and showering in cold water to cool off our minds and body. As Oceans contain chlorine and salty water that can easily damage your gemstone or ruin its surface. For example, Turquoise has a porous nature and quickly absorbs any liquid elements, so wearing Turquoise Jewelry while swimming at beaches might be a reason to damage your crystal jewelry.
Keep Your Jewelry Away from Cosmetic Products
Don't wear gemstone jewelry while applying cosmetics like perfume or lotions on the body. It may be a reason for falling crystal's dull or dingy and reduces the stone's natural healing attributes. For example, Moonstone crystal works against any perfume or cosmetic products, as they can get moisturized if they are regularly in touch with these liquids. As a result, the Moonstone jewelry can lose its lustrous and adularescence features.
Never Put Your Precious Jewelry Here and There
Gemstones are precious on both monetary and sentimental terms, so we would strongly advise you don't put your jewelry here and there while swimming, playing sports, gardening, or doing household activities. For example, larimar is one of the rarest gemstones that can only be found in the Dominican Republic and is an expensive gemstone. So, when holding the Larimar jewelry, you should always put your jewelry pieces in a safe place or a locker after taking them off.
Travel Tips During Summer
Traveling means a lot of fun, enjoying the weather, and exploring many new things around nature. But it could be risky for your valuable things such as jewel accessories. So check out our tips below to learn how to protect your jewelry while traveling this summer.
Always Pack Your Jewelry Separately -
You should always avoid storing your jewelry in one bag when packing. However, this can reach harm your gemstone or metal. For example, suppose you are packing harder gemstone-like Amethyst jewelry with a softer one like Moldavite or Turquoise. In that case, it can easily scratch up your softer crystal since Amethyst rates on seven on hardness level, a harder gemstone. To avoid this, try to store every piece of fine jewelry in a separate box or a soft cloth. Moreover, you can also wrap up your crystal jewelry in some pieces of tissue to protect it from friction.
Put your Jewelry In Your Purse Instead of a Checked Bag
When you are packing your stuff for going on a long trip in the summer, avoid putting your valuable jewel components in a simple checked bag. This is because the bag can get lost or theft. Some pieces of jewelry are expensive in monetary terms, like Aquamarine jewelry. So always play it safe, keep precious jewelry pieces in your purse or wear them.
Consider Wearing Minimal Pieces of Jewelry
Another thing you should keep in mind when you are planning for a trip, try to wear minimum pieces of jewelry when you are on your way. For example, you can wear a simple silver Moonstone ring or Larimar pendant, as they are easy to care for and maintain. Further, wearing fewer pieces of jewelry provides you with a comfortable state and tension-free mind while traveling.
Jewelry Cleaning Tips During Summer
Summer is the season that can affect your jewelry more than any other time of year because of all the liquids the metals are exposed to. Liquids like lotions, perfumes, sweat, sunscreens, pool water, and saltwater are all unavoidably part of the summer experience. You can follow these tips to keep your jewelry fresh and damage-free.
You should always clean your jewelry pieces with a soft cotton cloth at the end of the day. Holding for a long time can cause tarnish your sterling silver metal from the body's natural oil or sweat. For example, continuously wearing sparkling pieces of jewelry like an Opal pendant for two or three weeks may be dull or dim on their appearance. So, daily cleaning your crystal makes it shimmer and retains its natural healing properties.
When washing your gemstone, always use mild soap or salt water; high-grade detergents or acids can permanently ruin or damage your crystal's surface. For example, the

Libyan Desert Glass

jewelry is delicate and porous in its chemical nature and can easily absorb harmful outer elements like acid or detergents. So, avoid cleaning the jewelry pieces from any harmful liquids.
Moreover, putting your crystal under the Moonlight during the full Moon is another way to cleanse or recharge your gemstone. For instance, if your Moonstone ring has got fall dull or dim, you put it under the Moonlight; it will re-energize your crystal and enhance the stone's natural powers again.
Jewelry Storage Tips During Summer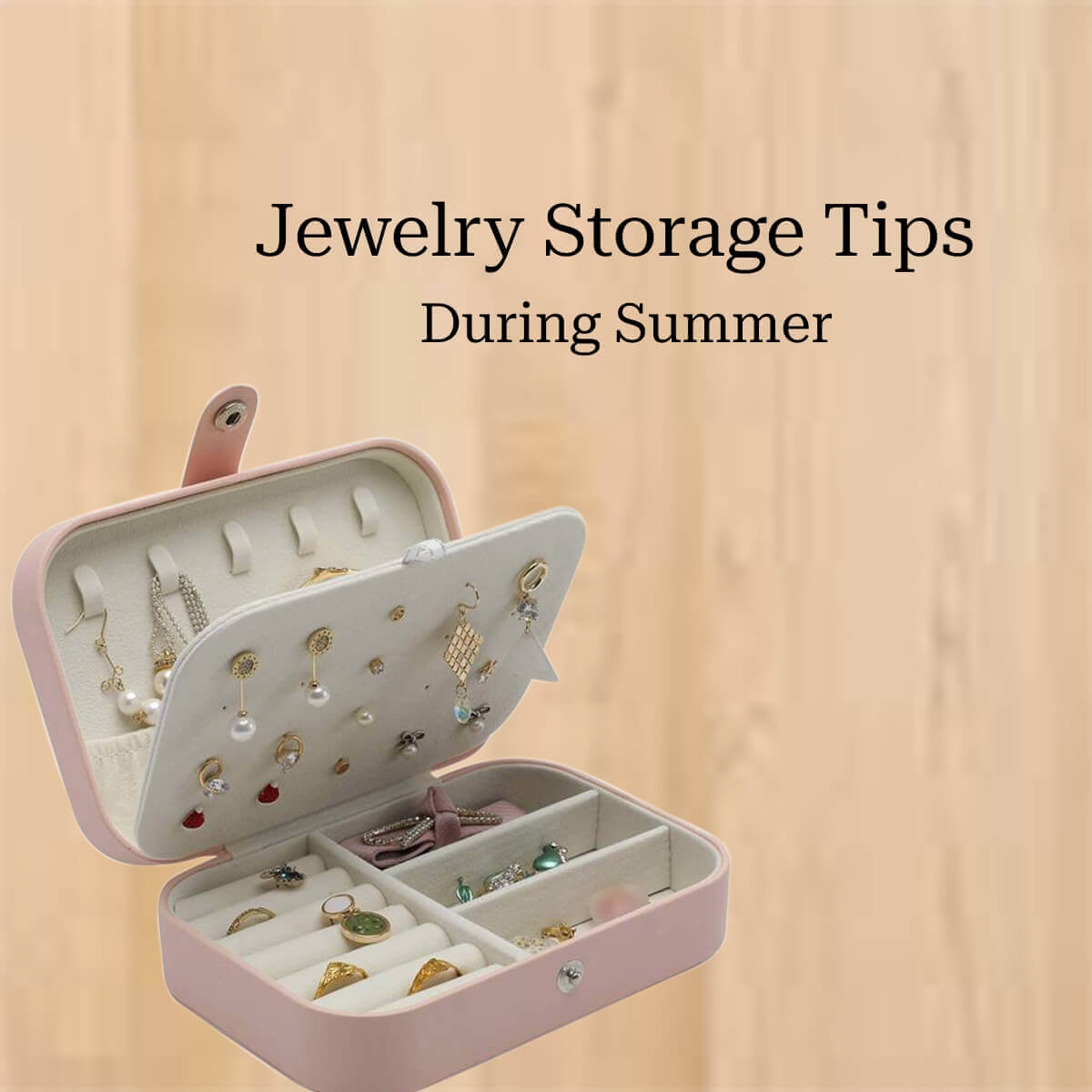 Storing your gemstone jewelry in a safe or dry place is a must to protect it from any kind of harmful environmental elements. So, the following things to remember while storing the pieces of fine jewelry.
Choose a Cool and Dark Place to Store Your Jewelry
After using the crystal jewelry in the summers, store it in a dark and cool place to protect your stone from getting fade in color. Too much sunlight can also tarnish or warp your metal. For example, the December birthstone Tanzanite can easily get fad when it comes in contact with the sunlight. UV rays of the Sun absorb the natural blue color it the Tanzanite gemstone. So, storing jewelry in a cool and dark place will help you prevent any damage or scratches.
Store Your Silver Jewelry in Anti-Tarnish Strips
Summer creates humidity in every place, and we can't control it. So, you can use the anti-tarnish strips to protect your silver gemstone jewelry from humidity and moisture elements, which will protect your silver metal from tarnish and rust. For example, Turquoise is a softer and porous gemstone than other crystals, so whenever storing a turquoise accessory like a Turquoise necklace or pendant, choose a dry and flat surface to give proper protection to the crystal.
Store Your Jewelry Separately In The Wardrobe
When you are storing jewelry pieces in safe places like a wardrobe, locker, or other places, make sure two harder gemstones are not stored with each other. Hard gemstone-like Rose quartz can damage other gemstones if stored loosely. So it is best if you store jewelry components separately. `
Conclusion
We have discussed some of the best caring tips for your gemstone jewelry during summer, and we hope you will adopt them precisely. These tips will not only protect your jewelry from damaging or scratching but also provide sustainability to your jewel components. On the other hand, if you are looking for an exquisite collection of silver gemstone jewelry to enhance your jewelry collection, you can explore the best designs at Rananjay Exports.
They have been a leading manufacturer and supplier of wholesale silver gemstone jewelry since 2013. By offering more than 200 varieties of colorful gemstones, jewel components are available in three vermeil 925 sterling silver, rose gold, and yellow gold metal. So most elegant pieces can be found in an affording range for every gem lover. In addition, you will also be eligible to get some extra reward points while ordering your collection. So visit the website now and book your collection today.