You're a god's favorite child," wondering why? Because you're blessed enough to be born in the month of September. And being born with the blessings of lapis lazuli is a pure privilege. From Cleopatra to ancient artists, everyone admired the grace of this blue creation from the last 6000 years. And this glorious journey deserves to be known to the modern jewelry lovers out there. But, what's more boastful is the heavenly powers and deep connection of this gemstone with every sector of life.
Already feeling overwhelmed in September birthstone jewelry, then wait for more exciting facts to unveil.
Ancient civilizations treasured this oldest blue gem to bring good luck and charm to their lives.
A true representation of royalty and beauty combined in the bright royal blue and shimmering flecks of lapis lazuli which made the world say, 'what an incredible blue.
Lapis lazuli was fashioned into the most demanding jewelry and carving material. The September birthstone ring has been preferred in shapes such as inlays, beads, cabochons, and tablets.
Interestingly in the USA, lapis is treated as the alternative for blue sapphire and a celebrated stone for the 7th and 9th wedding anniversaries.
This most celebrated wisdom stone comes under a metamorphic rock and is composed of sodalite, pyrite, lazurite, and calcite.
Why The History of Lapis is Rich?
What enthused the people of Egpyt, Greece, Persia, Rome, and Mesopotamia for this gemstone. Is it the rich blue color or something else? Then, as a matter of fact, the versatility impressed the old civilization. The formation of some practical objects, including dagger handles, hair combs, game boards, and amulets, evoke their interest. Also, the finesse caught the attention of successors like Cleopatra, who used the ground lapis as eyeshadow. Talking about the middle ages, painters tried their hands to dig the lapis lazuli to create the dark blue paint known as ultramarine. Whereas in South America, the Diguita and Inca were involved in carving, warring, and trading of lapis.
Why Emphasize on Color?
You must be thinking about why much emphasis is put on the color of lapis lazuli. Then the answer is simple, call it the USP ( unique selling point) or quality of lapis that made it famous amongst jewelry admirers worldwide, which is evident from its rich history itself. The precious radiance of September Birthstone Color differs in the tones of royal, indigo, marine, or midnight blue. The gold-colored pyrite flecks, when peppered beautifully around the gem, highlight the value. But the excessive pyrite makes the lapis look dull and green. Therefore, the white calcite lapis is least valuable. Also, the surprising fact about color is that most people are able to define and check the quality and authenticity of lapis through its vibrant shades only.
September Birthstone Meaning
Lapis lazuli feels like a melodious song that means blue in Arabic. The golden flecks in the September Birthstone Necklace looks damn enchanting. This dominating color means the same in Spanish and Portuguese languages. Lapis is an age-old gemstone that produces intense vibrations that prompted royal families to stimulate intelligence but is highly relevant in modern times for its exemplary qualities.
How Blues Heal Your Life?
The shimmer of golden brown flecks, along with the cobalt blue, brings light to the wearer. The astrologer believes in the powers of lapis and recommends the time of Saturday night (Krishna pasha) crescent moon to wear any lapis jewelry. This is because it belongs to the planet of Saturn and Jupiter, which enhances wisdom and focus. Also, it attunes with the third eye chakra to balance the internal and external energies with calmness. A perfect way to maximize physical, emotional, and spiritual healing.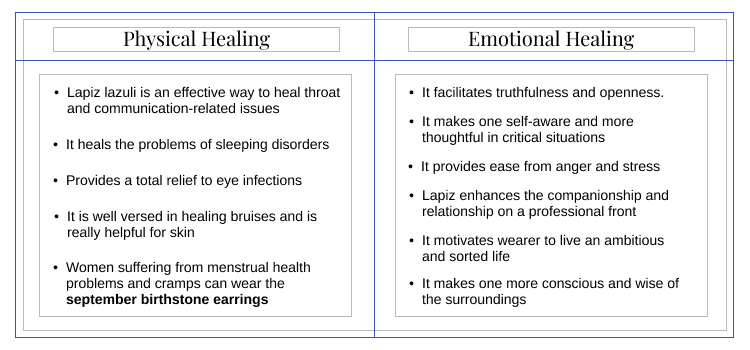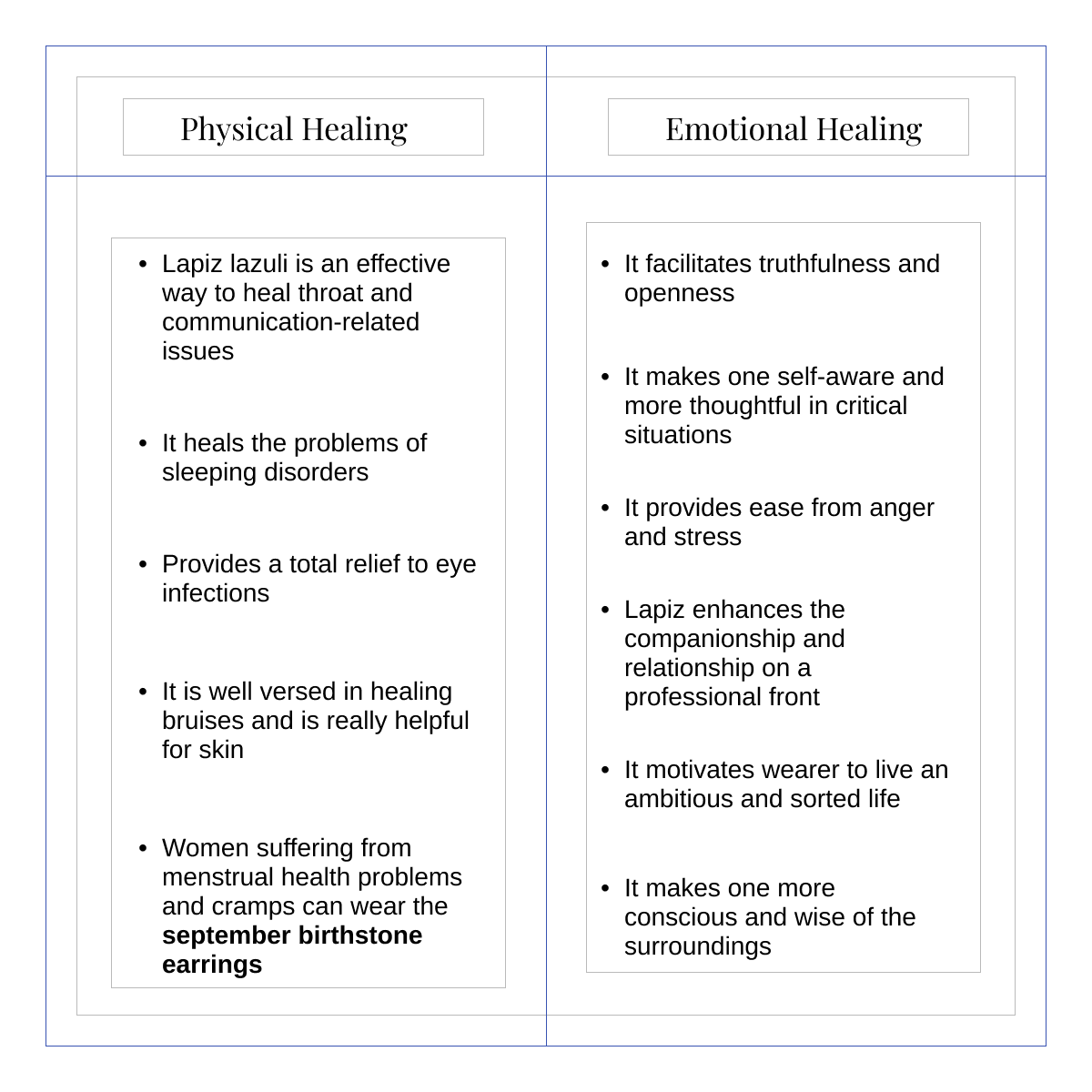 Discover The Shapes of Lapis
The hardness of lapis ranks 5-6 on the hardness scale, allowing the smooth and variety of cuts in the jewelry making. Also, the vivid shapes suffice the quest of trend followers and jewelry designers. Here are some of the well-known shapes in lapis lazuli to provide you with ample choice for the next purchase.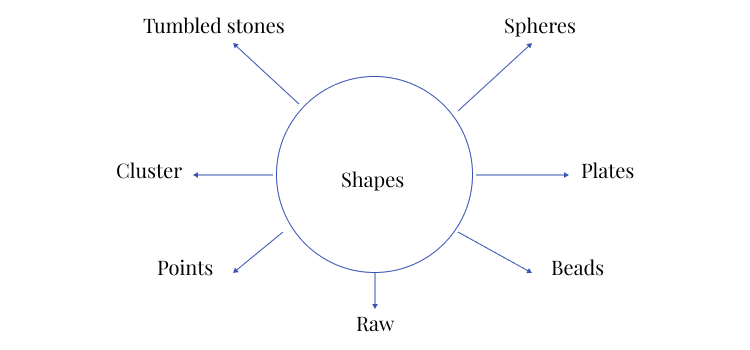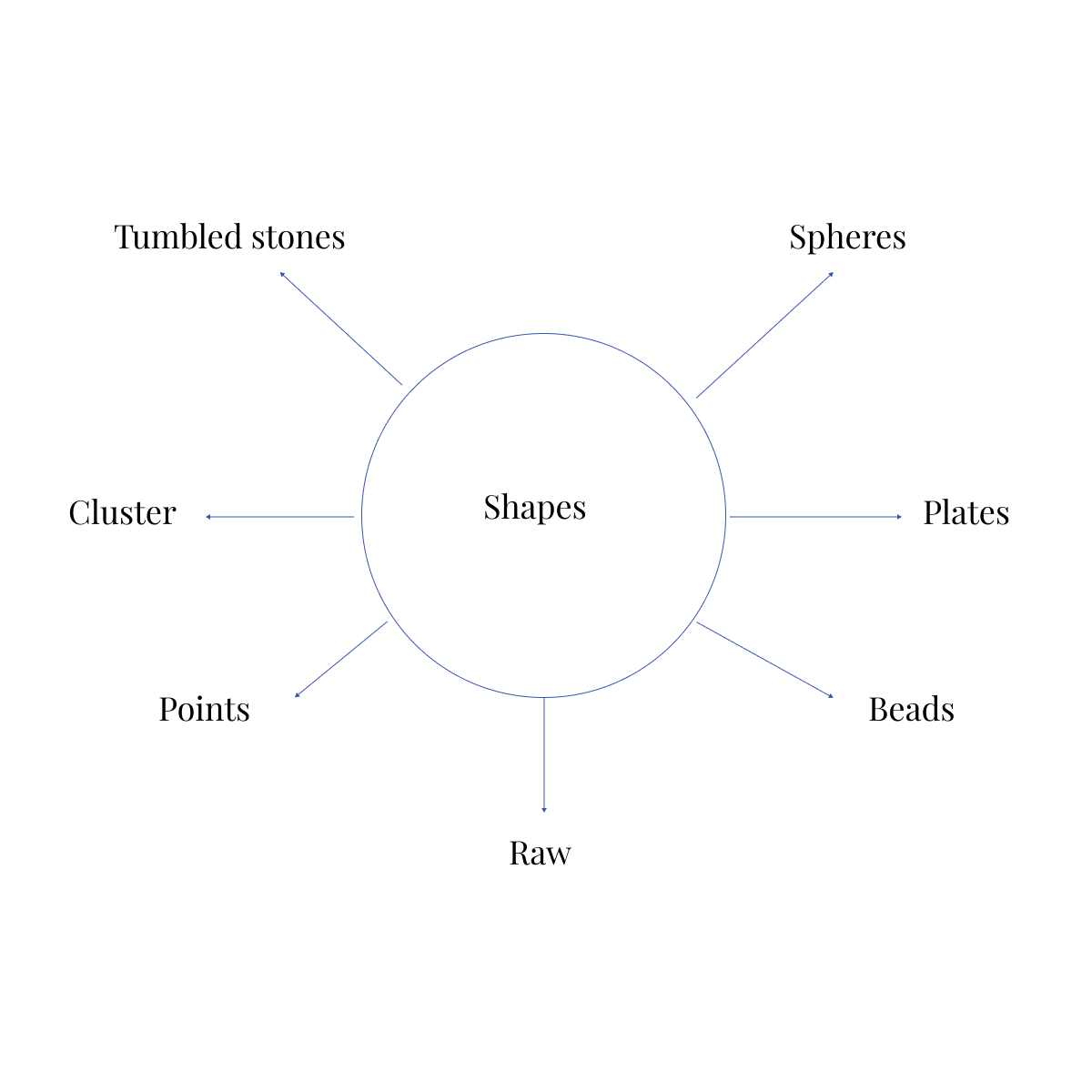 Good Combinations of Lapis
Well lapis looks great with any jewelry, but sometimes the precise information on the pairing is much needed for fashionistas to look in the best way possible.
The lapis comes out great when combined with

turquoise jewelry

which lets the two different blues illuminate your personality.
The combination of emerald is another best instance of showcasing your jewelry.
Clean and Charge your Lapis
The cleansing of lapis lazuli is mandatory when it comes to taking care of it. But it's wise always to choose a cost-effective option. Of course, cleanliness doesn't always come with a cost, but the quality is. This statement gives a way to clean your Lapis Jewelry simply with a dry cloth and mild water to ensure it's luster.
You may even settle for some chemical polishing but avoid this process if you can. The easiest way is to soak the jewelry in warm water and let the dirt remove quickly. But remember to take it off at the right time to avoid overhydration.
Yon't use chemicals or acids which may hamper the appearance.
Don't keep it with any other stone, as lapis is a soft and porous gem that needs to be kept in a cool area. Don't expose it to sunlight or high temperatures.
Keep in mind to have a separate place for your loved jewelry to avoid any breakage or unwanted scratches.
Charge your Lapis Jewelry
Charging is a crucial step after cleansing, which implies the restoration of energy and power. Not only Moonstone, but lapis also requires the energy of moonlight to become active again. Keep it for a day or two under the moonlight and experience the luster coming back. The ancient beliefs are also associated with heat charge, which refers to the heat rubbing on the palm to facilitate the restoration with warmth.
The distinctiveness of lapis lazuli makes it a valuable gem. The rudimentary skills and passion of artisans can be clearly seen in the designs and wide collection of Rananjay Exports. So, jewelry lovers can enhance their Wholesale Gemstone Jewelry collection with authenticity and experience the quality in every style.
Styling September Birthstone Jewelry
The dramatic blue radiance of the September Birthstone adds a stunning texture even to your simplest-looking attires. The jewel is an expert in adding volume to your look, exposing you to a great deal of attention and tons of compliments. By styling it correctly, you can dazzle the onlookers and get that jaw-dropping reaction. So, if you are a fashion lover who likes to take their style slightly over the edge, don't hesitate to go boldly blue with our Lapis Lazuli Jewelry. Here are some of the picks to steal for yourself -
Lapis Lazuli Earrings
Grace your earlobes with something bold and chunky, and pick a piece that suits up well with your personality. Do not forget to match them with your attire style and choose the design according to the maximum number of designs you possess in your wardrobe. You can carry a decent piece with your work wear to flash radiance and elegance. It can help you lighten up your mundane days into something fun. Also, Lapis Lazuli Earrings work out pretty well with your occasional outfits and enables you to outshine on your special moments. You can pair them with other gemstones to manage their uniqueness and make a change in their style timely.
The dazzling pair of earrings look like glistening stars in the sky with their golden flecks sparkling brightly on your ears.
Lapis Lazuli Necklace
If necklaces are more of your style, September-born babies, then you must not miss out on your chance to get something as versatile as Lapis Lazuli Necklace. By accenting your neckline, you can shine brighter on your special moments, and it can help you elevate your style. Try and pair it up with other gemstones such as Moonstone and Opal to radiate classiness every time you wear it. You can find some of the classy designs available at Rananjay Exports for yourself. Choose a design that fits your needs and suits well with your purpose.
Lapis Lazuli Rings
Lapis Lazuli Rings are also a great way to state your style in the most obvious manner. With a burst of color on your hands, you are sure to catch on some significant attention from the onlookers. A cocktail-sized ring will help you to create a heart-winning impression. Rings spell a cast that no other jewelry can ever can and quickly grab onto some major love in the world of jewelry fashion. Add a spectacular twist to your style and transform the simplest looking outfits in seconds with a stylish piece of Sterling Silver Lapis Lazuli Ring. Take your fashion a higher notch with the introduction of some color blasts on your hands.
You can pair your ring in the metal color of your choice to manage its appeal and intricacy. The golden flecks in the stone look absolutely stunning when paired with 18 kt gold vermeil. This adds a classic vintage touch to your jewels, making them look absolutely gorgeous and adorable. The attractive color, heart-warming energy, and distinctive features all contribute nicely to Lapis Lazuli Gemstone's popularity.
Relevant Blogs
---