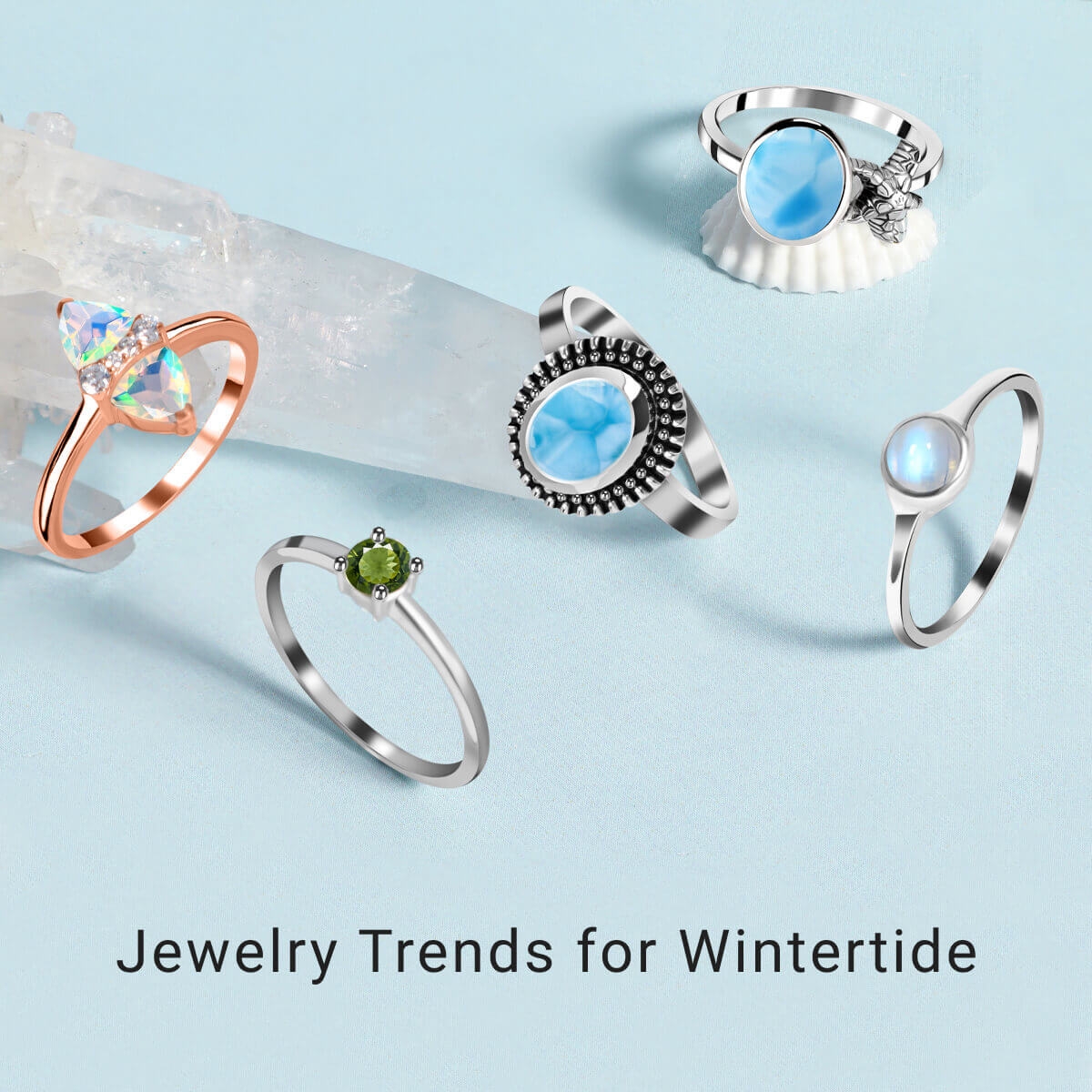 The onset of the winter season demands for a fresh start with our wardrobe, and after two years of staying put, it's no surprise that we are livening up our jewelry trends with a maximalist approach. This year is all about coming out bold and enthusiastically while expressing optimism through wardrobes. After living in despair for quite some time with minimalist jewelry, it's time that you flash yourself with vibrant hues of tantalizing gemstone jewelry.
Accessories like zodiac signs, dainty silver chains, layered necklaces, and statement styles are all that runways pointed to in the 2022 winter fashion flash. So, it's time that you endure jewelry designs that epitomize the relative theme and hold onto fun, colorful, and bold bijoux. So, whether you are looking for something fashionable to pull off fall jewelry trends or want to slay in winter fashion jewelry, BOLD is the new epitome of signature style.
Catch up on some of the most trending dramatic styles that you will need for timeless fashion. Bespoke jewelry, oversized gemstones, BOHO sterling silver jewelry pieces, and much more; we have mentioned it all in our guide for you to steal some trending picks. So, continue reading the article to know more and make a statement this winter season.
Stacking Bracelets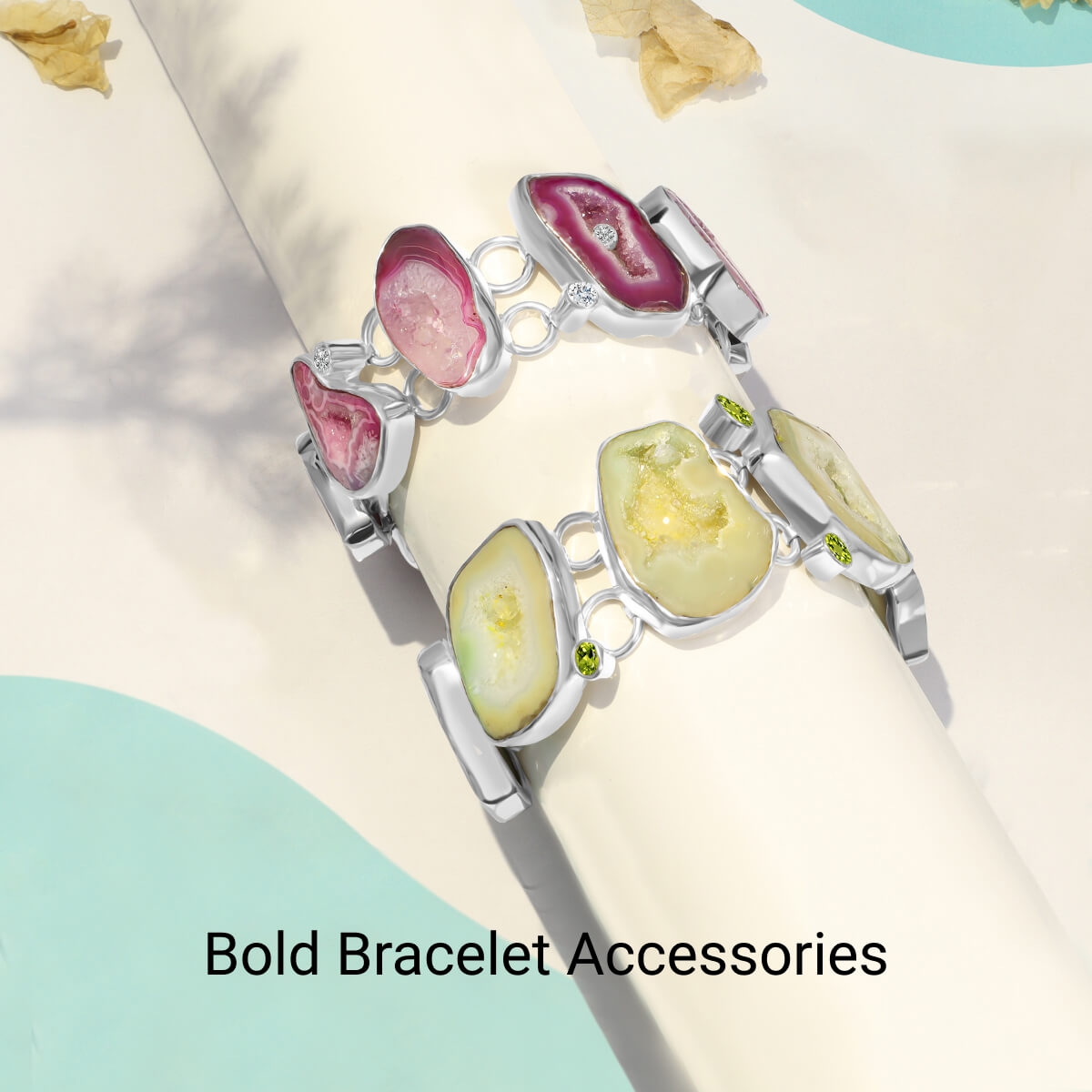 Why not roll the trend of stacking sleeves back again in winter 2022? Layering bracelets over your long-sleeved attires is quite an attention-gaining trend in the winter trends of 2022. Instead, consider piling on your arms with bright-colored gemstone jewelry to follow the more is more trend. You can mix and match with the colorful bliss of multiple gems to exude a rainbow-centric style. The vibrant shades of colorful gemstones are the prevailing trendsetters of the dramatic unabashed maximalist forms.
Go for an oversized gemstone crystal paired with the metallic luster of your choice, or you can select multiple colorful gems accented beautifully throughout the bracelet. Then, pick some bold and vibrant colors for the second part to radiate maximum charm. The glitzy appeal of the scintillating bold color brings the best out of you and helps you shine confidently.
Swingy Statement-Making Earrings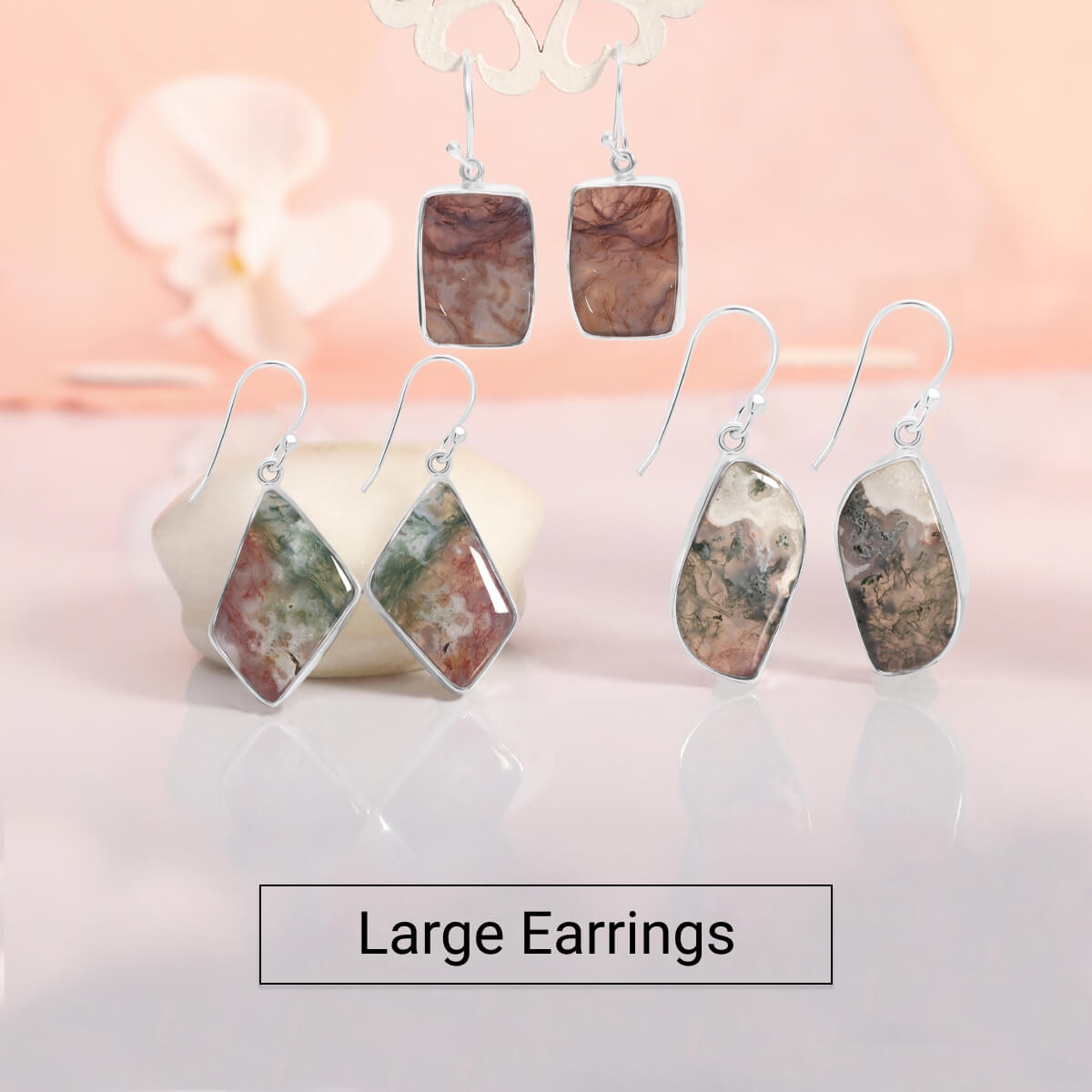 Express your personality with the powerful radiance of glistening ear accessories that adds a finishing touch to your face. This season's iterations are a far cry from the subtle strands that you are familiar with, and you have to think dramatic, asymmetrical, and all the playful ideas you can come up with. Think out of the box and experiment with your style, as normal-looking and perfect styling is far gone and replaced with unique, crazy picks. From chandelier earrings to door-knocker statement pieces that nod to the golden age of retro times, vibrant enamel pieces are all that you can spot over models' earlobes.
Pick some statement-making drop earrings and embrace cocktail-sized crystals. You can go for rough crystal jewelry and earrings to slay the trend aptly. The uniqueness of each stone will bring door-knocking glamour to you, which is perfect for slaying on a winter date night. Pick dark-toned gems for occasions, like Amethyst Jewelry, that pair well with your evening gowns. Also, you can go for multi-colored Gemstone Earrings that help you get the twinkling aglow to flaunt on cold winter days. Pair it off with a golden-tinted 18kt gold vermeil to add a vintage touch to its look.
Cocktail Rings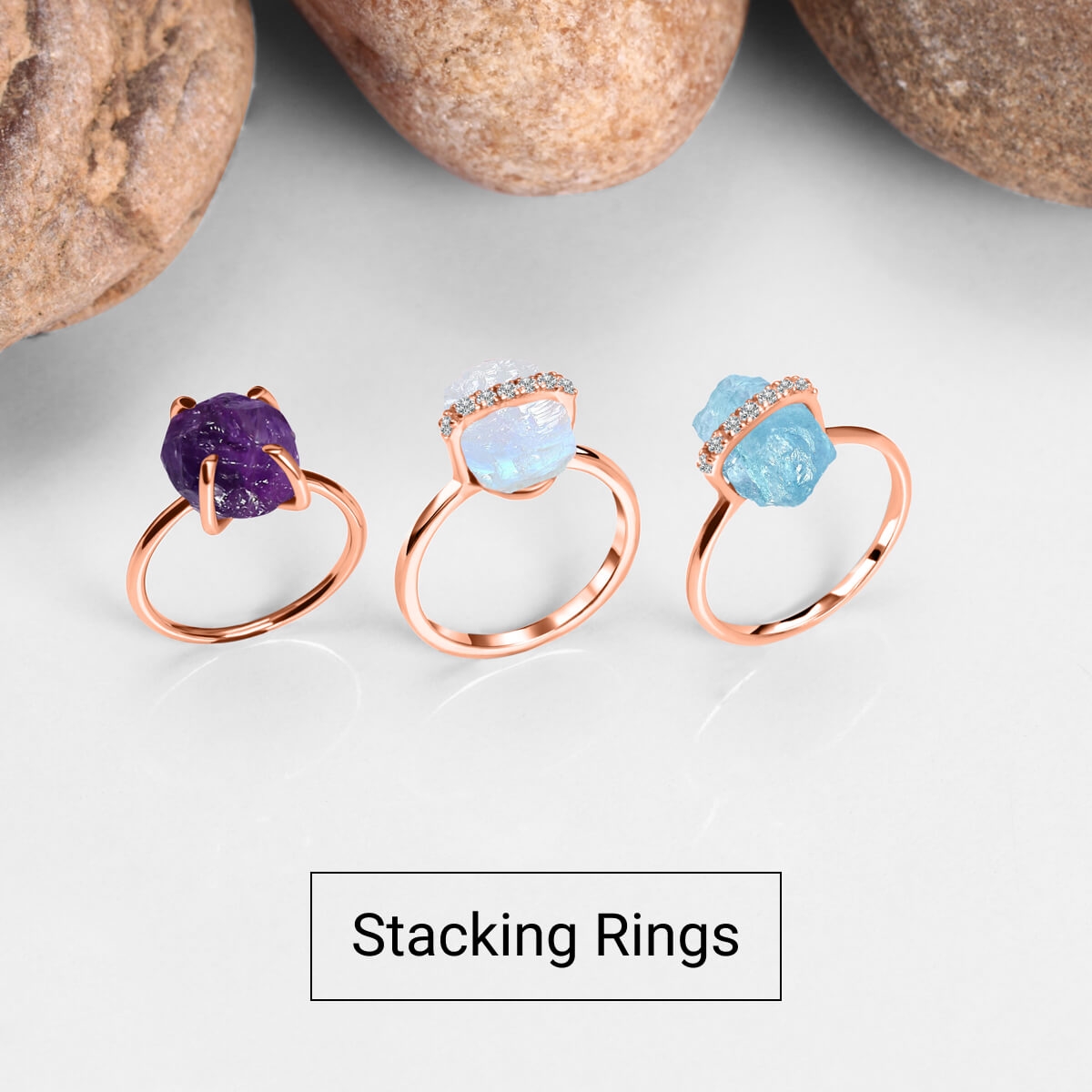 Add megawatt glamour to your style and go for a fringe with your glimmering Gemstone Rings. These are perfect for someone who doesn't appreciate heavy jewelry but wants to channel their inner glam with effortless styling. Cocktail rings are the hottest winter fashion trend in 2022 on the runways, adding a classic, refined touch to your fashion style. This winter, trends might be hurtling towards ostentatious, but they are not reinventing in nature. Instead, you can easily spot the return of classic evergreen designs that once were a big hit and came back around in full swing. The same is the case with our rings.
You can wear a single gemstone statement ring on each hand to radiate absolute charm and royalty. Or you can go for stackable rings to get a more fuller look. The modern rebellion encourages the shimmering Sterling Silver Gemstone Rings with a hint of golden glamour to mark a statement. We have cherished delicate ring pieces for so long that we almost forgot how impactful a single statement ring could be. So whether you are dabbling in the trend on a special occasion or embracing it as more of an everyday look, the big funky designs of the gemstone ring trend are worth trying this winter.
Layered Necklaces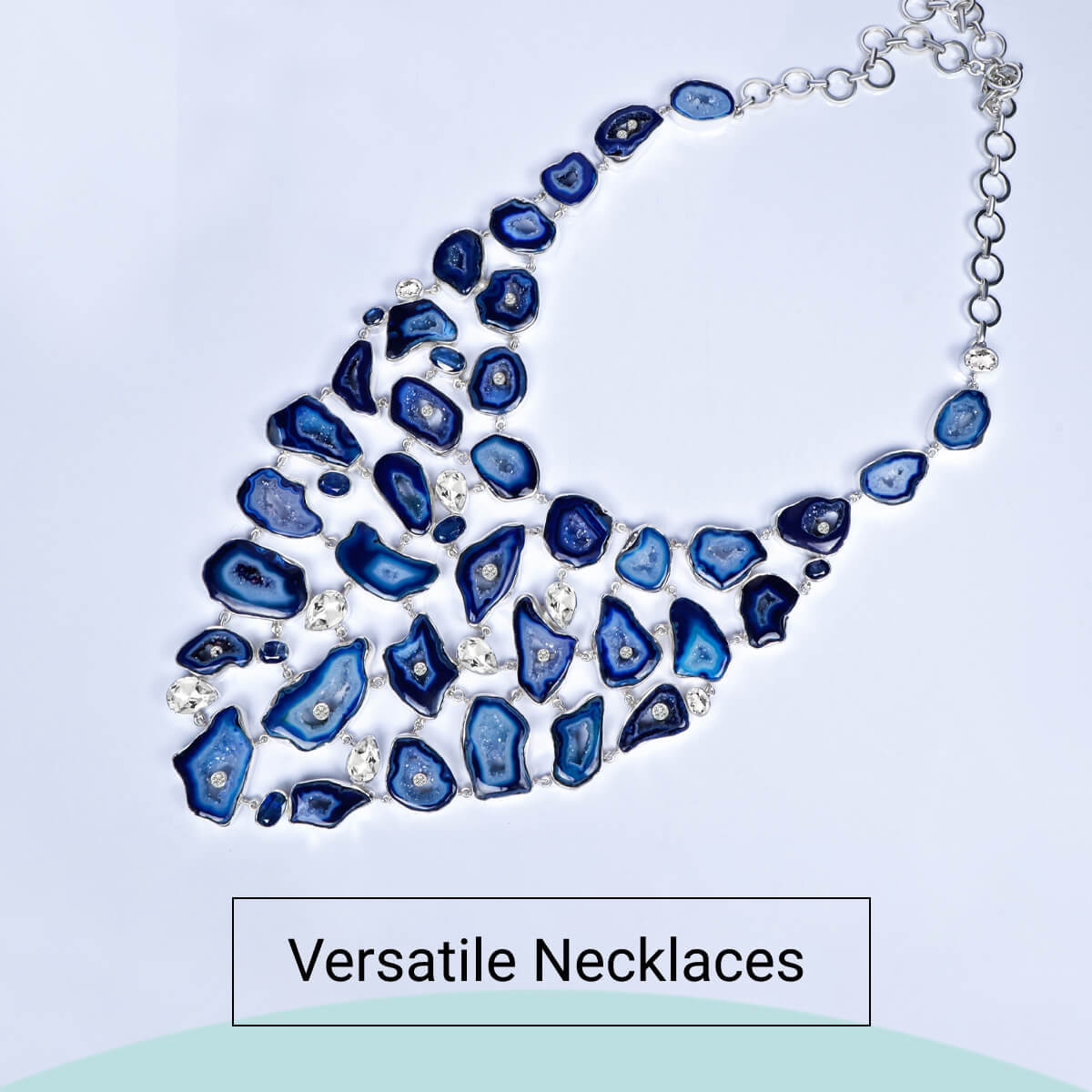 Any fashion style is incomplete without acing it up with a fabulous piece of Gemstone Necklace. You can go as bold as you want for winter necklace trends for 2022. The more, the better is the new ideology that the fashion industry is upgrading itself with. You can stack a few pieces of thick sterling silver chains around your neck to get that swingy statement fling going on. Then, complete that red carpet look by carrying an oversized crystal with intense hues to radiate that exotic style.
What we have seen so far includes the unquestionable popularity of silver. While gold is a classic pick that remains an evergreen choice, yet silver has definitely gained an uptick in popularity this year. Thus, you can confidently flash neck pieces crafted with Sterling Silver studded with incredible winter gemstone pieces. In addition, the trend towards chunky statement silver jewelry is quickly gaining hype and is a versatile option to slay this winter season.
Winter's Blue Flurry

What could be more of a trend other than to resonate with the icy blue vibes of the winter season? It's something timeless that is going to last for a long time, accenting your style not just in winter but whenever you need it to complement you. You can play with your jewelry selection with such exquisite styles that naturally add a delinquent touch to your attires. And you can never go with something blue, no matter the season or event. Combining the frivolity of the blue era with the glitz of winter chills, you can instantly take your fashion top a notch.
Icy Blue Aquamarine Jewelry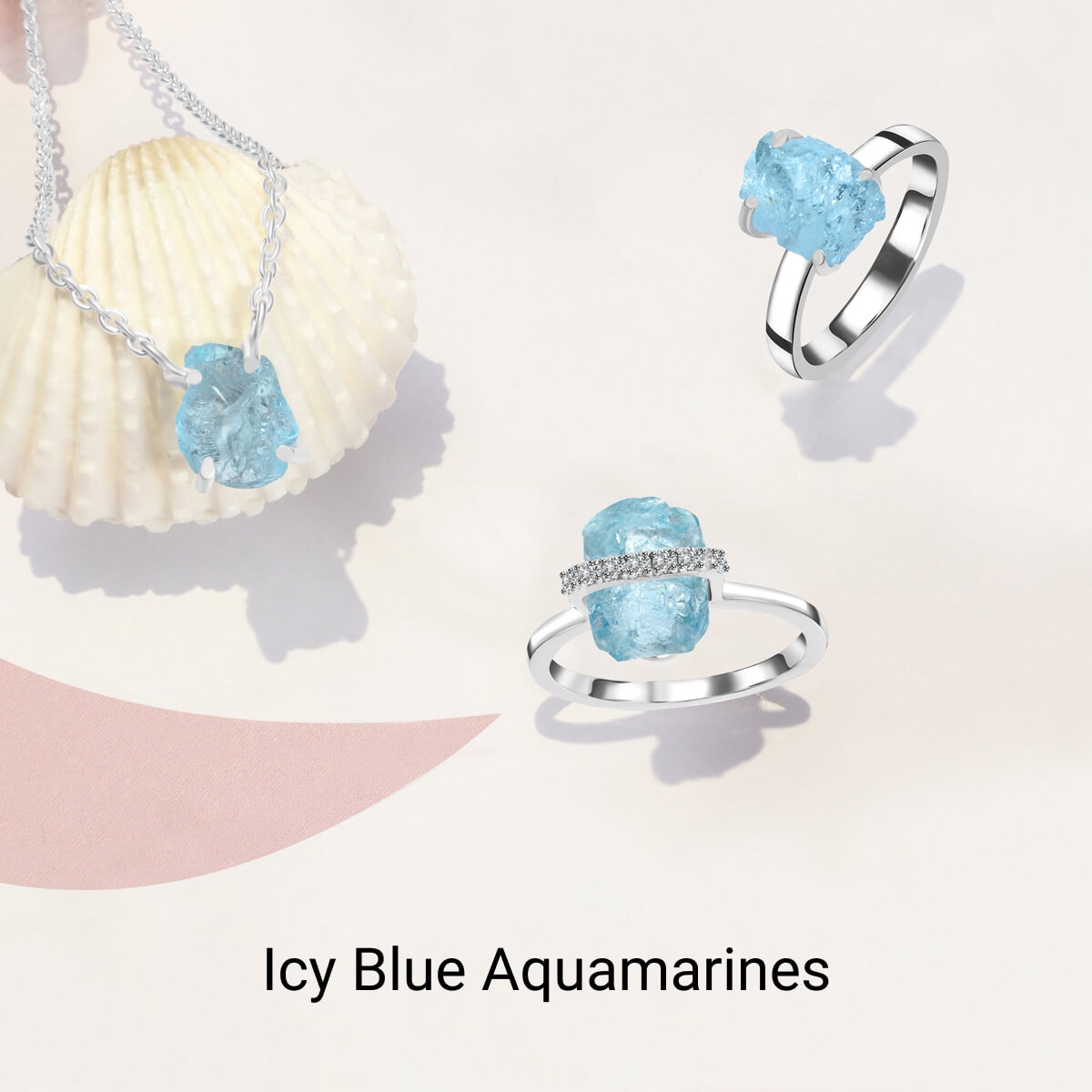 The icy blue radiance of Aquamarine Jewelry is a perfect pick to slay your winter look. The lustrous sheen and appearance of the gem allow you to flaunt your best side while adding some sparkling radiance to you. Securing a statement piece of Aquamarine Necklace would give you the sparkle you need with your subtle winter wear.
Sky Blue Larimar Jewelry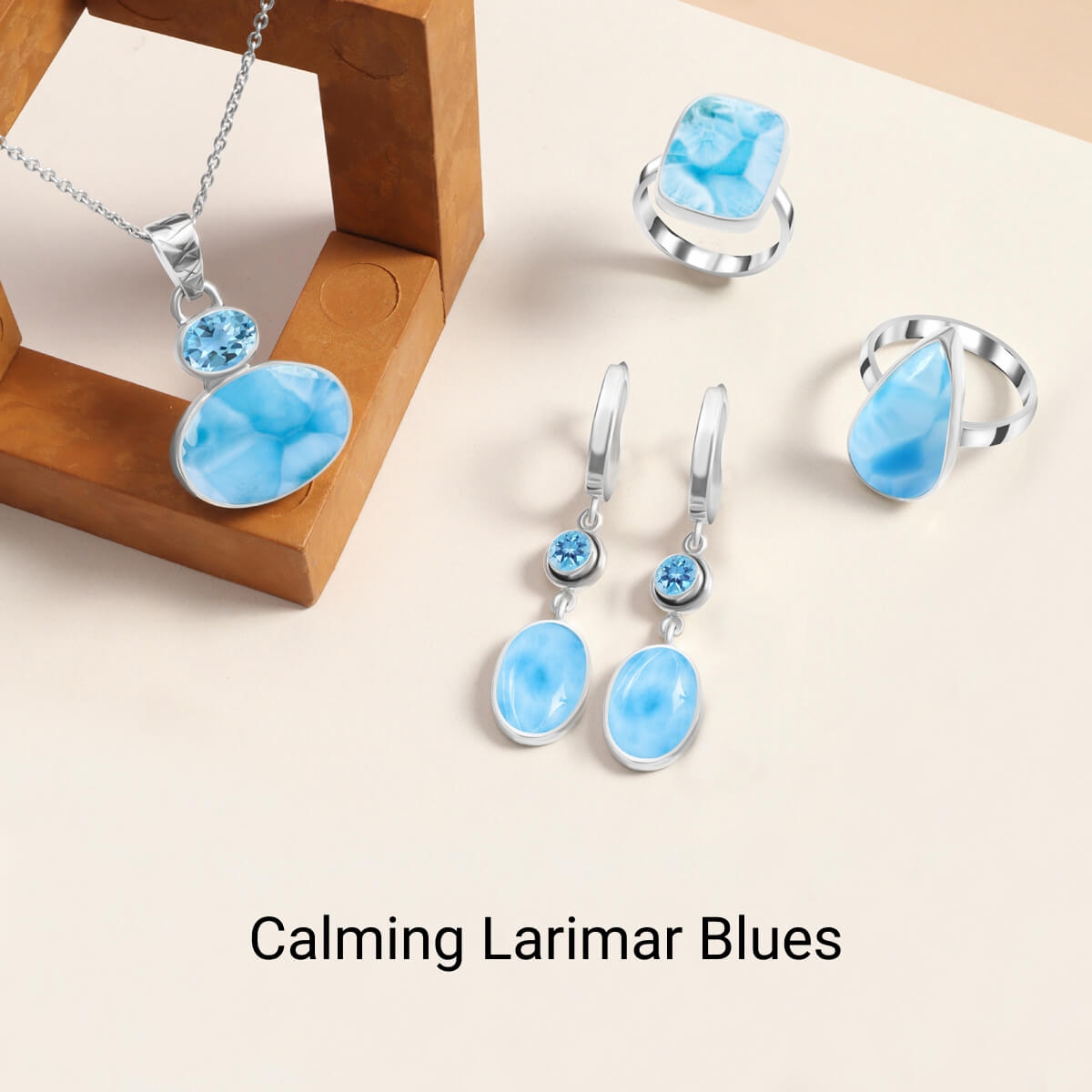 Bring the resurgence of calming sky blues to your jewelry box. Get yourself a cocktail-sized Larimar Jewelry piece to bring that oomph factor and leave everyone stunned with your natural winter glow. Larimar has beautiful, appealing white swirls that perfectly amplify the stone's soothing effect. 2022 designs have shown immense love for such exotic jewels having natural brilliance that gives your boring and mundane clothes a unique touch.
Dreamy Moonstone Jewelry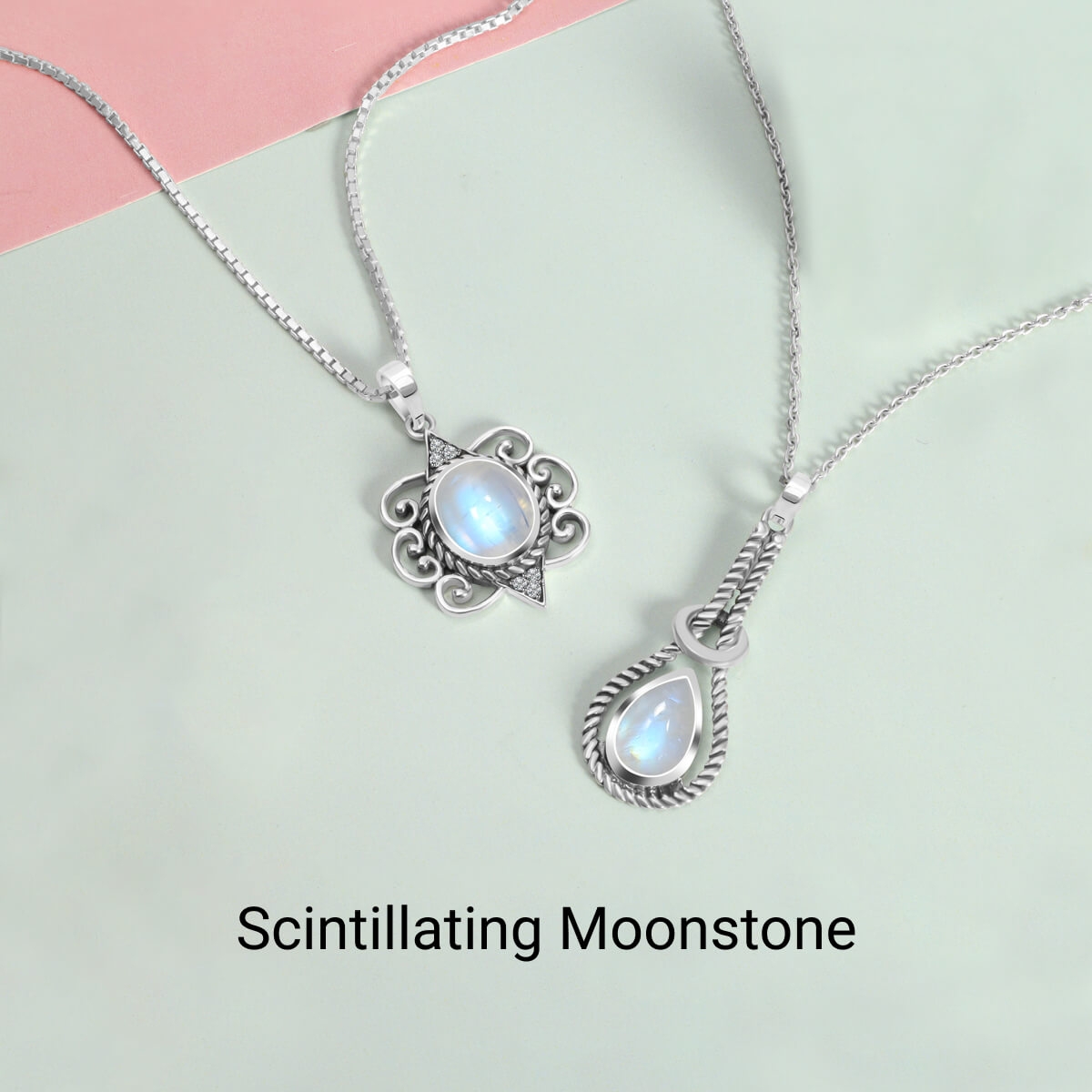 Although Moonstone Jewelry is not precisely blue in the shade, but it still holds an alluring icy blue sheen that amazes everyone with its jaw-dropping finesse. You can carry it regularly to glimmer in subtle elegance while marking your signature style to the very front. Then, pair it with beautiful 925 Sterling Silver Jewelry to blend elegant styling and bold accessories perfectly. Then, get that spectacular winter blaze to earn compliments.
Birthstone Jewelry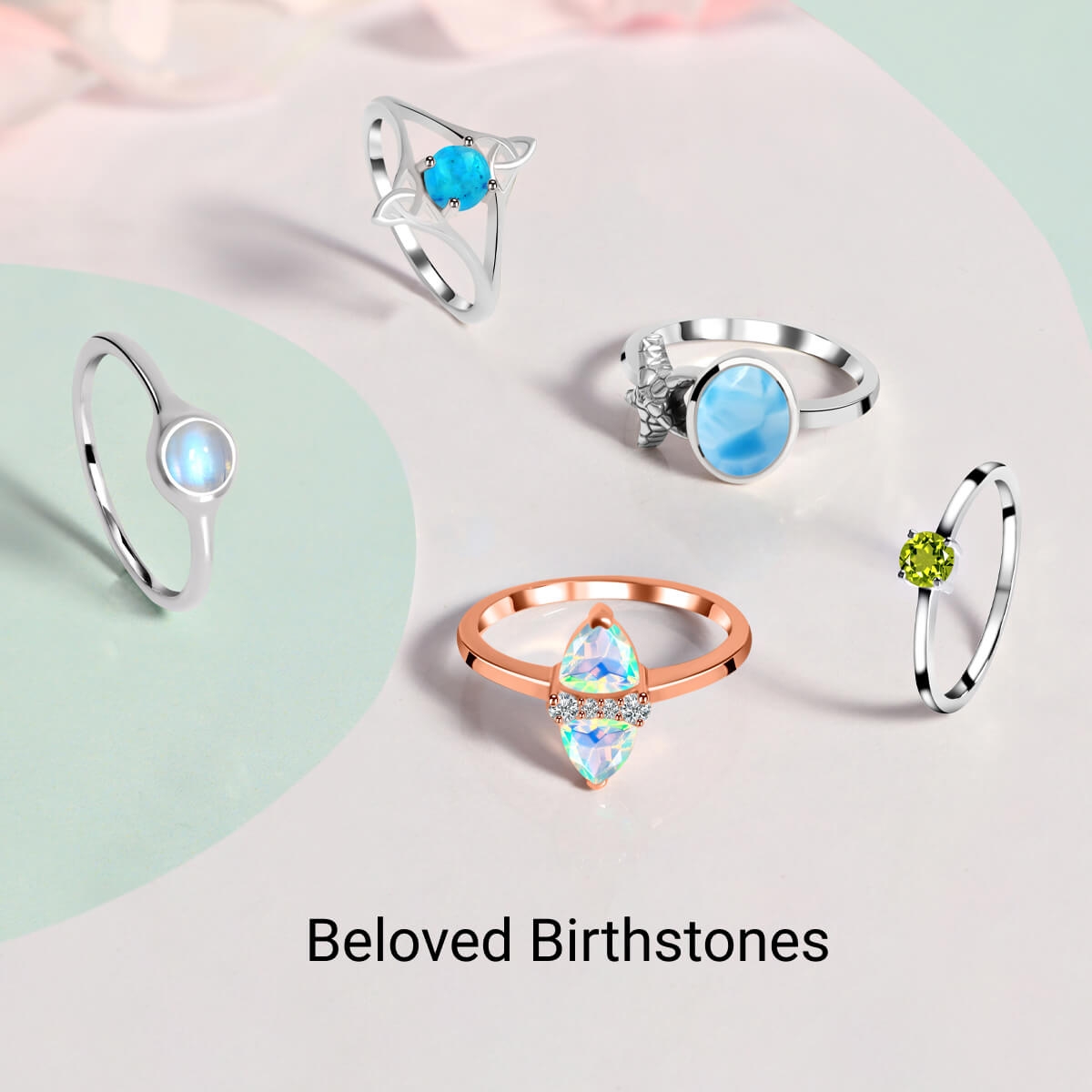 Another notable trend that you can hop on is accenting your style with a piece of Birthstone Jewelry. The colorful gems assigned to each month are trendy and showcase a part of your personality quite well. So, you want to speak your personality through colorful pieces of jewels while staying chic and elegant. In that case, you can accessorize your winter wear with your particular birthstone gemstone according to your birth month to make a forward statement.
So, pick a big chunky piece of your assigned birthstone jewel to radiate your unique style. For instance, if you are a January born, you can flash your best side with a stunning fiery red Garnet Jewelry piece to represent your birth month and uniqueness. So, add some playfulness of vibrant colored gemstones to your jewelry box and get on with the madness of winter jewelry fashion.
BOHO Styling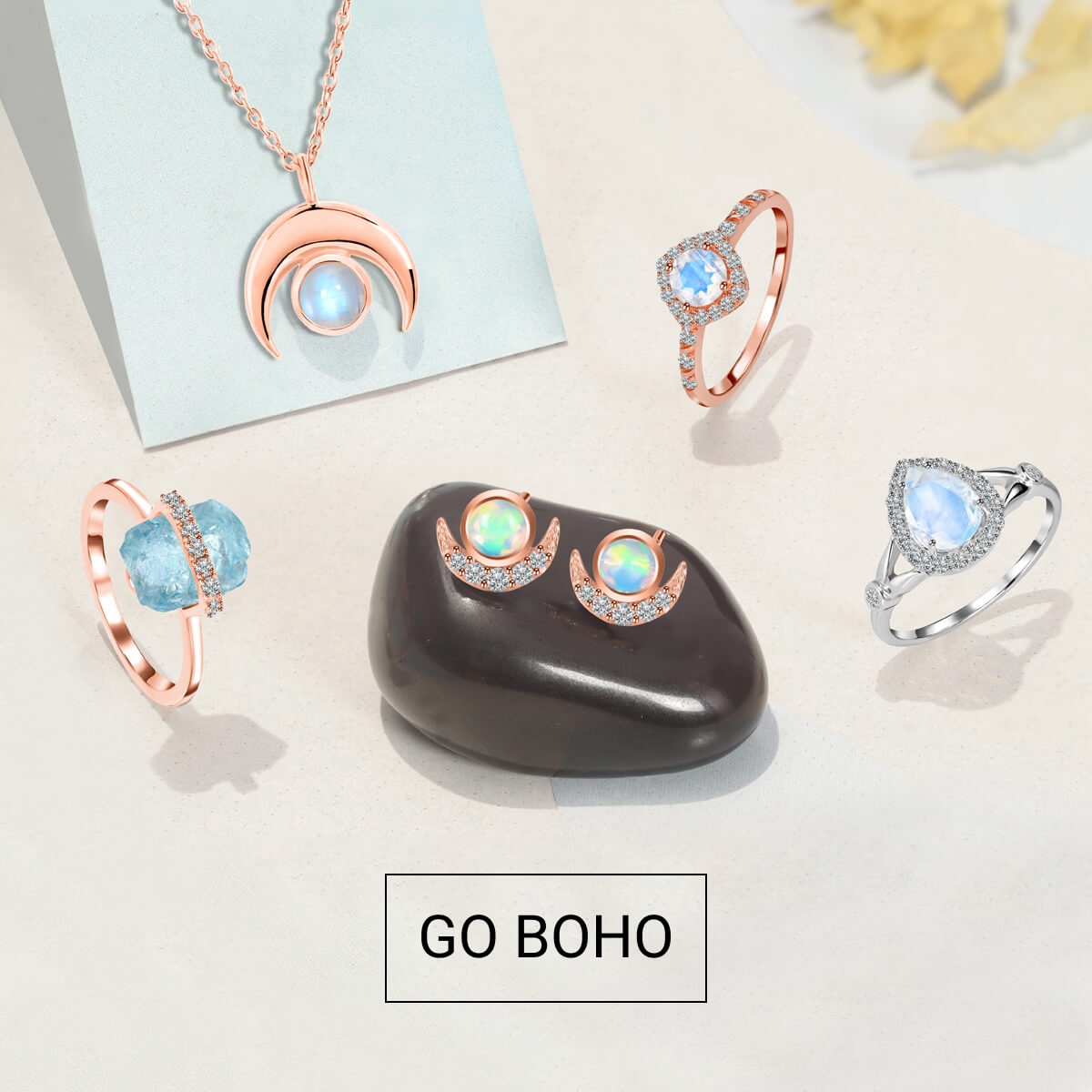 Exotic BOHO styling with a good volume of Sterling Silver Jewelry is among the hottest trends you will spot this year. With the recent hype of silver in fashion jewelry, people are turning their heads toward the silvery sheen of the metal. While resonating with the winter tones, bold and outgoing BOHO jewelry styles are worth flaunting with your winter wear. You can accent its silvery glow with a hint of colored jewels, such as Turquoise Jewelry, that adds a pop of color to the accessory while complementing well with your skin. Also, the gem's blue shades look stunning when carved in the glimmering brilliance of sterling silver metal.
You can stack different jewelry pieces simultaneously to radiate a bold style and for a fuller look. The voluminous designs will give you the extra edge you need to cover yourself from winter chills and exude lovely charms.
Personalized Accessories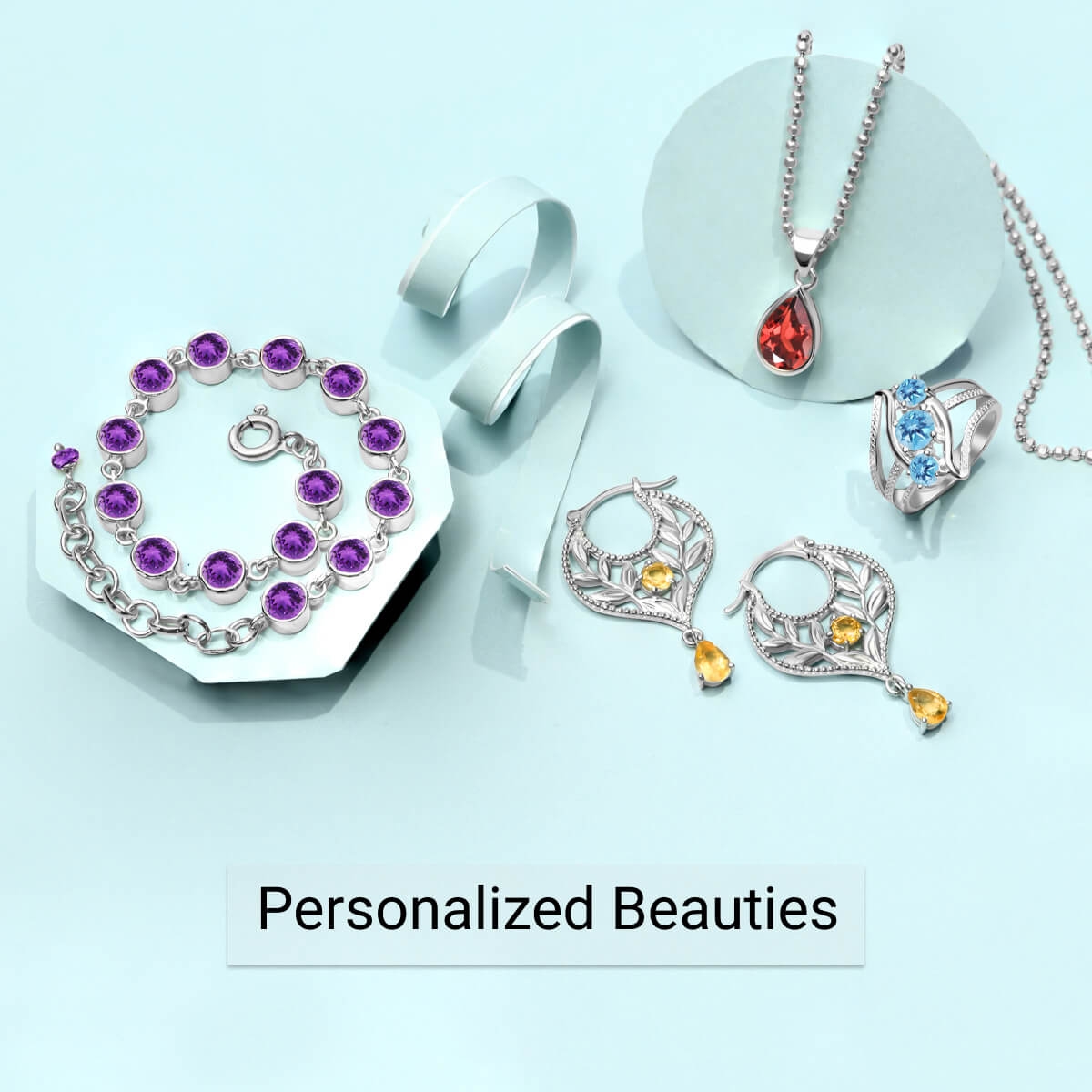 Personalized Jewelry is a big hit not just only for winter fashion trends but throughout the year. People have been choosing jewels not just to flash catchy fashion styles, but they are using these glittering sparklers to represent a part of their personality. And what's a better approach other than confidently showcasing a beautiful piece of Personalized Jewelry? You can stack yourself neck pieces of your name or initials to make them entirely yours. Other than this, engraved jewelry accessories with your special dates, time, or something meaningful message written on it is an attractive choice. Put your thoughts into assessing what could be a powerful statement message that you want to showcase as a part of your personality.
Zodiac-Inspired Jewelry
Zodiac-Inspired Jewelry trends are also quite hyped in recent times and have successfully marked their entry into the winter jewelry trends of 2022. They are a classic choice to celebrate your uniqueness while representing a bold side of your personality. You can go for your zodiac sign crafted in sterling silver metal or even flash your celestial sign in the form of a necklace. For instance, Aquarius people are also called water carriers and can carry a piece of the chain with a symbol of water waves on it. Similarly, other zodiac sign holders can accent their fashion according to their respective zodiac sign meanings and the messages it carries.
Suggested Popular Pick at Rananjay Exports
Chakra Jewelry for Trending Winter Fashion
Since the more, the better is the true motto for this winter season, you cannot miss out on beautiful Chakra Jewelry at Rananjay Exports. It is finely crafted with multiple colored gemstones and truly engages you in its magnificent brilliance. The flashing colors glittering through a single piece of accessory allow you to flaunt the maximum sparkle without much effort. Each gemstone selected to carve beautiful designs of Chakra Jewelry complements each other well and is a great pick to ooze a little drama this winter season.
Also, apart from just being a piece of fashion jewelry, it is designed so that multiple crystals' powerful energies align to create a balance between your chakras. So, what are you waiting for? Pick a beautiful design of Chakra Jewelry at Rananjay Exports now.
Conclusion
So these were some swoon-worthy winter jewelry trends for 2022 that will help you slay your inner diva with the best picks. Our guide will help you select and showcase some of the most classy styles and to set new jewelry fashion benchmarks. You can pick your favorite Gemstone Jewelry at Rananjay Exports, finely crafted with pure 925 Sterling Silver to add durability to your jewelry. Choose little sparklers of joy to ace your look with perfection and dazzle everyone with head-turning perfection. And last but not least, don't forget to enjoy your winter with some amazing styles.